Efforts needed to put Mikazuki Spa & Hotel Resort project into operation soon
November 23, 2021, 10:20 [GMT+7]
During his meeting on November 22 with the ODK Mikazuki Vietnam Co., Ltd, the investor of the Mikazuki Spa & Hotel Resort project, Vice Chairman of the Da Nang People's Committee Tran Phuoc Son urged the company to mobilise more resources to speed up the construction progress so as to put the project's hotel block into operation soon.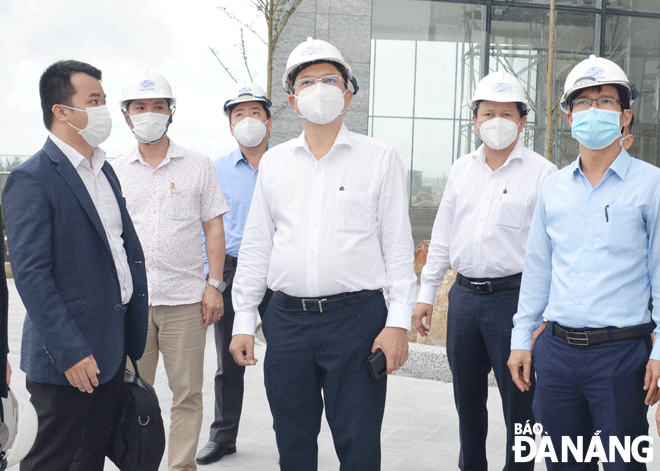 Vice Chairman of the municipal People's Committee Tran Phuoc Son (third right) paying an inspection visit to the construction site of the Mikazuki Spa & Hotel Resort project. Photo: THU HA
The Mikazuki Spa & Hotel Resort project is one of the city's key projects. In the past times, despite being affected by the pandemic, a number of the project's construction items have basically completed according to the committed schedule of the investor.
Also at the meeting, the city leader listened to the investor's aspirations and suggestions, as well as showed his keen interest in expanding the project according to the enterprise's previous commitments.
Vice Chairman Son expressed his desire that the company soon completed the development of a pedestrian bridge as previously committed and proposed. He hoped, once completed, the Japanese-style pedestrian town would create highlights for the city's tourism.
He suggested that the company should cooperate with the municipal Department of Tourism to conduct marketing campaigns to promote their tourism products to both domestic and foreign visitors in 2022 when the pandemic is predicted to be controlled.
Covering an area of 122,430m2 in Lien Chieu District's Hoa Hiep Nam Ward, the Mikazuki Spa & Hotel Resort project costs a total of VND3,900 billion, in which contributed capital accounts for 24% of the total investment.
The project features a 24-storey hotel block offering a total of 464 accommodation rooms with a total area of 122,430m2, and other utilities and ancillary works such as an amusement area with roof, an outdoor water park, an artificial mountain, a swimming pool service area and beach club.
It is expected that the whole project will be completed in January 1, 2025. Previously, the Water Park 365 entertainment complex at the project was put it into operation from December 2020.
As for the hotel block, it was originally planned to be put into operation from June 2021 but due to the impact of the pandemic, construction work faced many difficulties. Up to now, 264 out of 464 accommodation rooms are being built.
As planned, the indoor water park will reopen on December 23, 2021, and the construction of the 264 accommodation rooms will be completed in December 2021 and put into trial operation in January 2022 and officially put into operation from March to June 2022 (depending on the pandemic situation).
Meanwhile, the construction of the remaining 184 hotel rooms is expected to be completed in June 2023 and put into operation in June 2025.
Reporting by THU HA - Translating by M.DUNG
.