Increasing number of reading spaces funded by public donations
Published: January 15, 2018
Over recent years, Da Nang has seen a growing number of reading spaces which are wholly or partly funded by public donations.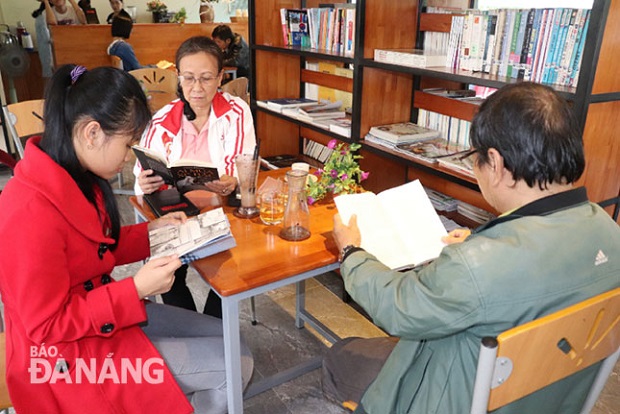 65-year-old Pham Hoan and his family members at the free public library (Photo: Ha Thu)
A free public library at the Cultural House of the Hoa Cuong Ward Collective Residence in Hai Chau District is a typical example.
Built at a cost of 45,000 USD, the nearly 200m2 library is the first project jointly developed by Da Nang and South Korea's Daegu City last year. Of this figure, 30,000 USD was donated by Daegu City, 10,000 USD came from the Hai Chau District budget, and the remainder from public donation.
The venue features a café, a reading area and a rest-stop for both locals and visitors. It is the first of its kind in the downtown district.
Opened one month ago, the venue has proved effective, and it has attracted a large number of local book lovers.
Amongst them are the family of 65-year-old Pham Hoan in Hai Chau District's Hoa Cuong Nam Ward. He said "The library boasts nice and modern spaces, with numerous new and interesting books. As a result, my family members often visit here at weekend".
The library's manager, Mr Nguyen Viet Ly, said that the venue opens daily from 8.00am to 9.00pm. Visitors to the venue enjoy free drinking water, whilst other kinds of drinks are sold at reasonable prices.
Mr Ly remarked that the revenue earned from the operation of the library will be used for the maintenance work here, and spent on paying salaries for security guards, service staff and manager.
Other local reading spaces funded by public donations include the Hien Nhan library at K34/89 Le Huu Trac in Son Tra District which is owned by teacher Dang Van Muoi from the No 1 Continuing Education Centre, plus the 'Community Bookcase' at Tho Quang Ward which is jointly operated by the Son Tra District Women's Union, and the district's Urban Area Development management board. In addition, the World Vision International organisation has funded 2 reading projects entitled 'Friendly Library' and 'Community Library-Coffee Shop'.
.