Da Nang- a resilient city depicted through moving sketches amid coronavirus crisis
August 09, 2020, 11:40 [GMT+7]
Since Da Nang has seen a second wave of the coronavirus late last month, many young people citywide embarked upon creating emotional sketches through which all of them show their profound love and wishes for their physically small yet strongly resilient city amid the coronavirus crisis.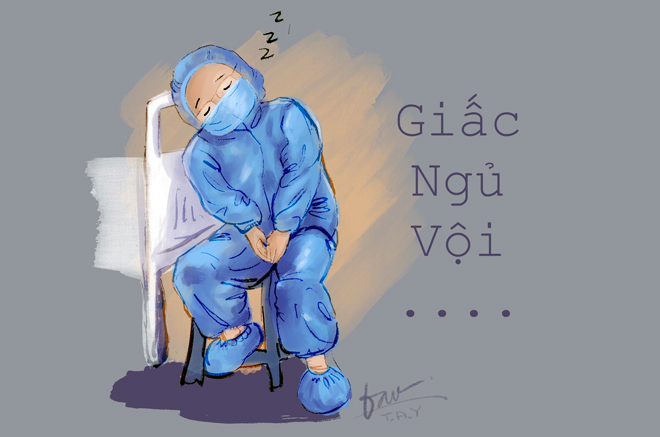 A sketch by Le Thanh Tai depicting a nurse' hasty nap in an area for treatment of Covid-19 patients.
Not merely visual, ephemeral things, these sketches have built up a strong and vivid narrative around the city's harsh battle against coronavirus outbreak, as well as honouring the frontliners, alleviating public anxiety and assuring anyone who loves the city that has been on the right track in dealing with the pandemic, and that it will get through this crisis, finally.
The images of medical workers wearing stuffy personal protective gears all the daytime and nighttime, racing against time to save the lives of Covid-19 patients, have deeply touched the heart of Le Thanh Tai, who is the co-founder of the Hai Chau District-based Gon Design Studio Company Limited.
This moving fact has prompted the young man to do something to support our 'angels in white coats' who are getting through hardships and dangers to treat Covid-19 patients with a high sense of responsibly, dedication and love.
With his talent, Tai has created 3 notable eye-catching sketches of frontline medical workers.
The creation of these arts works have been inspired by real-life images: a nurse encouraging herself in the hallway, a nurse's hasty nap, and medical workers sleeping in makeshift beds made from carton paper. All of his drawings have captured interest from the general public.
"Medical workers are hospital heroes in the fight against coronavirus as they left behind their beloved families to work hard treating Covid-19-catching patients, which makes me extremely touched with strong admiration. My sketches aim to honour noble sacrifice these 'heroes' have made, as well as spread the message of love and determination in our community to win coronavirus fight", said Tai.
Another young 'painter', 21-year-old Nguyen Minh Anh, a student of the Faculty of Accounting of the Da Nang University of Economics cum Vice President of the University's Students' Association, took a week to sketch portraits of doctors and nurses who have been working hard treating the patients stricken with the novel coronavirus disease since late last month.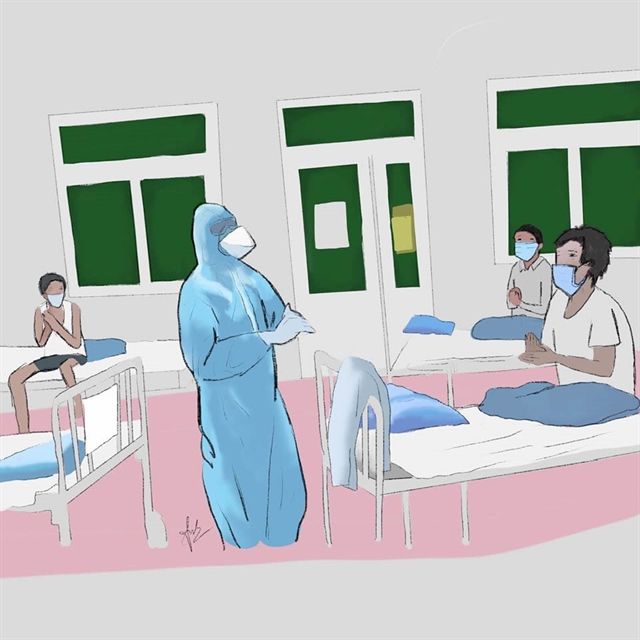 A sketch by Minh Anh featuring a doctor singing with Covid-19 patients at a hospital in Da Nang.
Notable amongst her 'brainchildren' is a portrait depicting the images of doctors singing songs to with interesting rhythms and encouraging lyrics to his patients to give more encouragement to each other and their patients.
"It's a big sacrifice. Only love can help them (doctors and nurses) overcome the tough challenges to save the lives of Covid-19 patients," she said.
Meanwhile 23-year-old Dinh Nhung, a student from the Da Nang Architecture University created drawings as a way to express her profound gratitude to hospital.
On the spotlight of her recently-completed sketch is the image of a female medical worker in Da Nang having her long beautiful hair cut in a bid to facilitate her work to treat Covid-19 patients. Female health workers' decision to cut off their long beautiful hair – the valuable 'asset' of a woman- to fight Covid-19 has immensely touched the hearts of many people. They, in fact, appear to be 'the most beautiful warriors' in this tough fight against the novel coronavirus.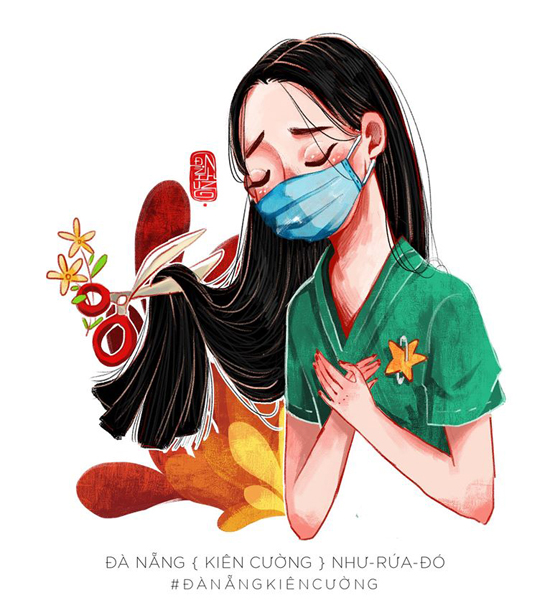 Dinh Nhung-created drawing of a female medical worker in Da Nang having her long beautiful hair cut in a bid to facilitate her work to treat Covid-19 patients.
There is no denying that such aforementioned sketches have considerably helped spread love and lift up the community's strength to repel the terrible virus. Domestic painter Vinh Vuong, the initiator of the painting movement themed 'Resilient Da Nang' said, "Creating beautiful drawings is not our major goal now. Actually, we draw to support the frontliners to fight Covid-19. We draw to alleviate others' still-overwhelming anxiety and fear triggered by the coronavirus rebounding. We draw to convey the fact that this resilient city is on the right track in dealing with the pandemic". At this time, art is the only way for the 'artists' to connect with others.
At present, domestic painters are resolute in their strong response: "In Viet Nam, the national government says we are at war with the virus," "So, as artists, we do our job in a war: we draw."
By KHA MIEN – Translated by A.T
.