Da Nang athletes preparing for SEA Games 31
January 12, 2021, 16:40 [GMT+7]
2021 can be considered an important year for Viet Nam's sports sector as the country will host the 31st Southeast Asian Games (SEA Games 31) this year.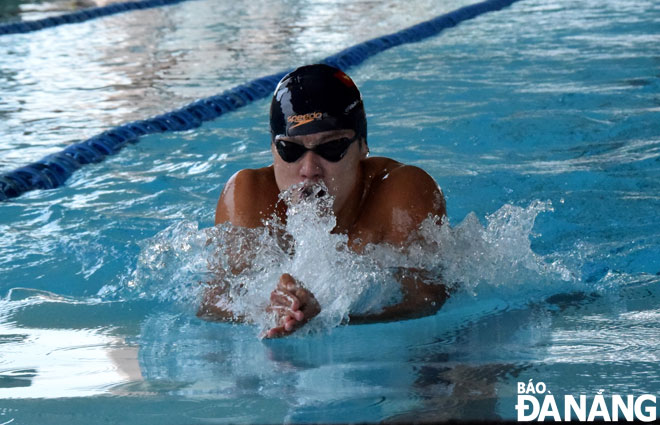 Da Nang talented swimmer Hoang Quy Phuoc
Director of the Da Nang Athlete Training Centre Nguyen Dong Hai said Da Nang athletes will strive to took between 8 and 10 golds over the forthcoming regional sporting event
Mr Hai remarked some Da Nang talented athletes are completely worthy to play for the national sporting squads. Specifically mentioned are pencak silat fighter le Van Toan in the men's 95kg event, diver Nguyen Thi Hang in the women's events using snorkels and flippers, swimmers Hoang Quy Phuoc and Nguyen Huu Kim Son, race walkers Nguyen Thanh Phuc, Nguyen Thanh Ngung and Vo Xuan Vinh, rower Pham Thi Hue, and other outstanding judo, taekwondo, boxing and kickboxing fighters.
Currently, these athletes are a very busy schedule to prepare for important sports events this year, including SEA Games 31, and the National Physical Exercise and Sports Festival 2022.
As planned, some talented local athletes will be sent to train abroad in a bid to improve their professional skills if the global coronavirus pandemic is sucessfully contained. Swimmers Hoang Quy Phuoc and Nguyen Huu Kim Son, along with some outstanding athletes from Rowing, Kayak and Canoeing teams in Da Nang, will be sent to Hungary for short and long-term training courses. In addition, Da Nang walking team will participate in training courses in China' Guangxi Province.
By NGUYEN AN - Translated by M.D
.