Australia helps Viet Nam enhance innovative ecosystem
January 12, 2019, 12:17 [GMT+7]
Australia will assist Viet Nam in enhancing its innovative ecosystem through a development assistance programme named Aus4Innovation, which was launched on January 10.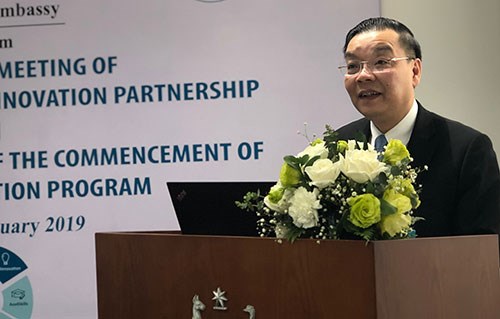 Minister of Science and Technology Chu Ngoc Anh speaks at the ceremony. (Photo: vnexpress.net)
The 10 million AUD (7.1 million USD) programme aims to build long-term partnerships between Australian and Vietnamese scientists and researchers, and help the Vietnamese Government and people embrace opportunities offered by the fourth Industrial Revolution.
Aus4Innovation, which will last for three years, is designed to materialise the Australian–Viet Nam Innovation Partnership, which was first established at APEC 2017 by then Australian Foreign Minister Julie Bishop and Viet Nam's Minister for Science and Technology Chu Ngoc Anh.
"It is a great example of our approach to further developing the Australia–Viet Nam strategic partnership," Australian Ambassador to Viet Nam Craig Chittick was quoted as saying by Saigon Times at the launching ceremony.
"Through our Aus4Innovation programme, we want to share the best of Australia's public and private sector expertise to assist Viet Nam in taking advantage of new technologies and to shape the future of its economy," he said.
Chittick added that Asia is on the verge of great transformation and Aus4Innovation is an exciting opportunity for Australia to assist Viet Nam in harnessing its skills and experience and creating lasting connections in science and technology.
(Source: VNA)
.