Local students create cooler to replace conventional air-conditioners
May 23, 2019, 17:34 [GMT+7]
A group of students from the Faculty of Heat and Refrigeration Engineering of the Da Nang University of Science and Technology has successfully created an indirect evaporative cooler which applies the Maisotsenko cycle (M-IEC) with the help of the university's lecturer Ngo Phi Manh.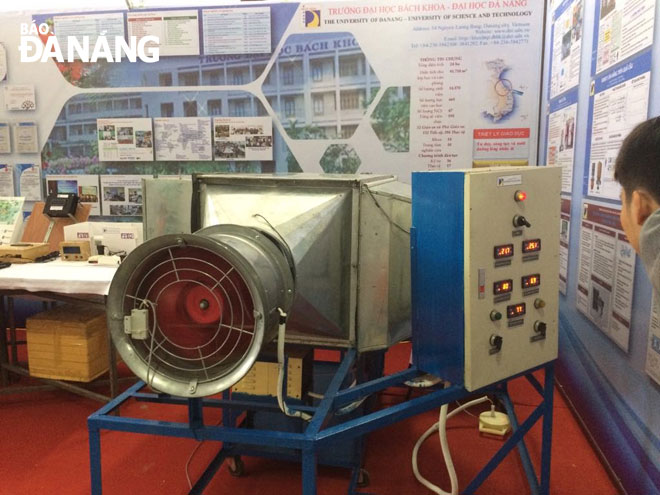 A M-IEC model displayed at the Technology Demonstration and Connection Conference 2018 (TechDemo) in Can Tho Province in October 2018
They are Hoang Trong Tuan Huy, Dinh Minh Hien, Duong Vinh Huynh and Nguyen Viet An.
M-IEC is aimed at replacing the conventional air-conditioners being used in schools, restaurants, and other public areas nationwide.
According to results from experiments conducted on the current M-IEC model under climate conditions in Da Nang, and Viet Nam as a whole, M-IEC cools more effectively than a conventional air-conditioner, but its power consumption is about 10 times less than that of the conventional air-conditioner in the same cooling capacity.
For instance, with a cooling capacity of 8,400 British thermal units per hour (BTU/hr), the conventional air-conditioner will have an electricity consumption capacity of 754W, but the M-IEC of only 90W.
The IEC technology is based on heat and mass transfer between air on one side and air with cooling water, so it is very friendly to the environment.
Due to M-IEC's simple machine structure, maintenance technicians will find it very easy to do their work.
IEC is considered a cooling technology suitable for many applications of heating, ventilation and air conditioning for office buildings, supermarkets, cinemas, sport centres, data centres, etc.
Thanks to their feasible work, the local students won third prize at the municipal-level Scientific Research Contest for Students 2018 which was organised by the municipal Department of Science and Technology.
.