Big strides made in spurring quality of IT human resources
July 29, 2022, 11:29 [GMT+7]
With the goal of building itself into a smart city, Da Nang considers the development of the quality of information technology (IT) human resources to be an important and breakthrough task. In particular, FPT Software Company (FSoft) Da Nang works with the municipal government to deploy many practical programmes to attract high-quality IT personnel into Da Nang.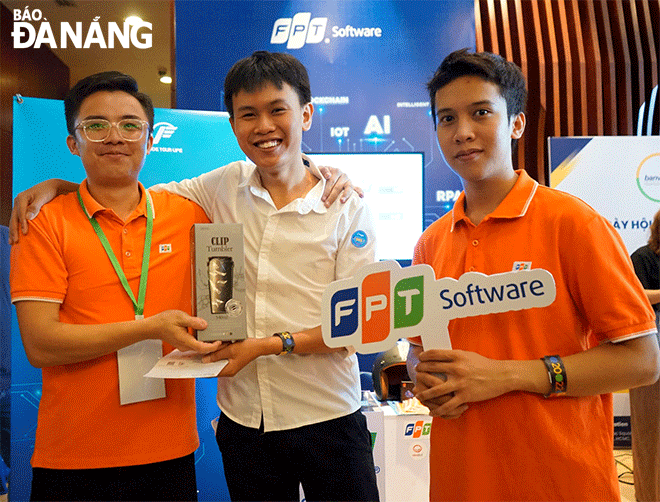 Young staffers of FPT Software Da Nang participate in the Technology and Startup Day at Google I/O Extended Mien Trung 2022 in Da Nang.
Mr. Nguyen Tuan Phuong, Director of FSoft Da Nang, said that his business has closely and comprehensively cooperated with universities, colleges, and IT human resource training centres through supporting training programmes, sending FSoft experts to participate in classes and seminars on technology and research activities run by schools, as well as guiding students to do graduation projects at enterprises in order to contribute to building the city's IT resources.
* After the COVID-19 pandemic, how is software production at FSoft Da Nang? How has the unit built the facilities to meet the development requirements?
- Software production at FSoft Da Nang was not interrupted but continuously grew during and after the pandemic. In 2021 alone, FSoft Da Nang recruited more than 1,600 positions. Especially, on May 24, we started the third phase of FPT Complex building to complete the project not only for 10,000 people to work but also many auxiliary works to create a working space.
* How do you assess the current shortage of IT human resources at FSoft Da Nang and in Da Nang in general?
- With the current resource of 5,000 employees, each year, FSoft Da Nang alone needs to recruit thousands of additional positions. Every year, IT training institutions in Da Nang only enroll 6,000 - 7,000 students for all levels of universities, colleges, intermediate and elementary schools. Far fewer students graduate each year with the right skills. This leads to a huge shortage of human resources, both at the level of fresh graduates as well as experienced engineers or professionals.
* What are the weaknesses of IT engineers after graduation? What has FSoft Da Nang been doing to train high-quality IT human resources and create job opportunities for students, especially foreign language skills?
- As mentioned above, many IT students graduate but still lack the appropriate knowledge/skills, whether it is background knowledge, foreign languages or soft skills. To overcome this, FSoft Danang has always cooperated closely and comprehensively with universities, colleges, and IT human resource training centres through supporting training programmes and assigning FSoft Da Nang experts to participates in teaching, supporting research activities in schools and creating conditions for students to join internships at this enterprise. All these activities are part of FSoft Da Nang's orientations to contribute to building the city's good-quality IT resources.
Internally, FSoft has invested VND 100 billion in training programmes for its staff, including the online learning platform Udacity with a portfolio of nearly 6,000 courses. The company also has a policy of supporting exam fees and rewards to encourage staff to improve themselves and equip themselves with the necessary international certificates for the sake of their better work performances.
As for foreign languages, in addition to the opportunity to participate in training programmes inside and outside the company, FSoft has sent hundreds of engineers to work in such countries as the U.S., Japan, Germany and the U.K. to help them horn their foreign language skills and job experience, heading towards going far on the career path.
* In your opinion, what are the potential and advantages of IT human resources in Da Nang and Central Viet Nam as a whole? What policies should the municipal government have so as to attract foreign investors to this field and create a bridge between trainers and employers?
- Da Nang shows off a clear strategy on digital transformation and smart city building, which creates a 'big playground' for potential IT human resources. This is definitely an advantage to develop IT resources in the city.
However, there is currently a shortage of IT human resources with deep expertise and experience working in priority areas such as manufacturing specialised products and applications for mobile devices; serving e-government and smart city building. In reality, high-quality IT human resources such as Team Leader, Project Manager, Bridge Engineering are scarce, while the enterprise demand for this force is very high, leading to the situation of job hopping, forcing enterprises to face a shortage of good personnel and long-term job cohesion.
FSoft Da Nang wishes to be facilitated by the Da Namg government to develop local resources through mechanisms to encourage IT training and early career guidance for students, and at the same time, creating conditions for experts, especially foreign experts, to seek employment opportunities in Da Nang.
Reporting by DOAN HAO LUONG - Translating by A.THU
.