Vocational training encouraged for graduates from secondary and high schools in Da Nang
July 18, 2022, 11:52 [GMT+7]
As Da Nang has brought the COVID-19 pandemic under control, many businesses has started to resume their production and increase orders from international markets. However, the current labour force has yet to meet the huge demand from businesses. In order to deal with the problem, for many years, vocational training for students graduating from secondary and high schools have been always encouraged.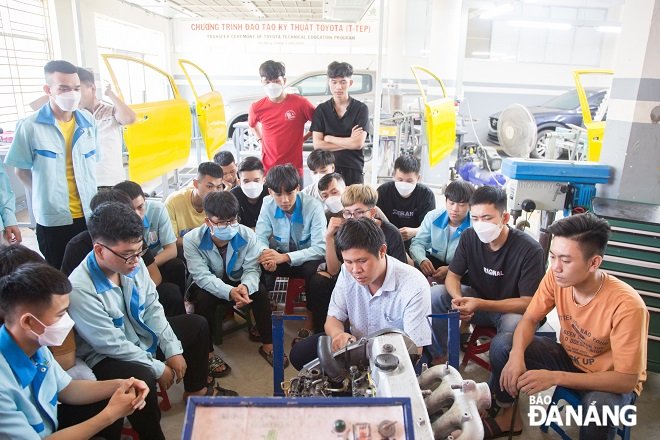 Students learn theory combined with actual machine observations. Photo: CHANH LAM
Data released from the Da Nang Employment Service Centre show that, since early 2022, 631 units and enterprises have registered to recruit 12,653 trained job positions.
Of this figure, 1,342 jobs have required university degrees or higher education level, 1,172 college degrees, 1,907 intermediate education level, 2,946 elementary education level and 5,286 technical workers.
However, the labour force has not yet met the recruitment needs of city-based enterprises.
To contribute to solving this problem, students are encouraged to participate in apprenticeships after graduating senior high schools. As for secondary school students, instead of trying to enter the 10th grade by any means, many students have chosen to pursue formal training carried out hand in hand with vocational training, known as the 9+ model, and have a professional career after three to four years of study.
Vocational training helps students to enter the labour market early. The programme focuses on training vocational skills.
The Da Nang Vocational Training College has cooperated with 150 city-based businesses to organise vocational training courses and create jobs for students. Practical content accounts for more than 80% of the school's vocational training programme, with the aim to help students sharpen their vocational skills.
In addition, the school also closely links with businesses in order to facilitate their students to take part in internship programmes and early to experience the real working environment.
With regard to businesses, the recruitment of skilled workers will help them save time and costs for training. Products made by skilled workers are of better quality than those of new unskilled workers, thereby helping businesses quickly recover, boost production, and be ready to meet market demand.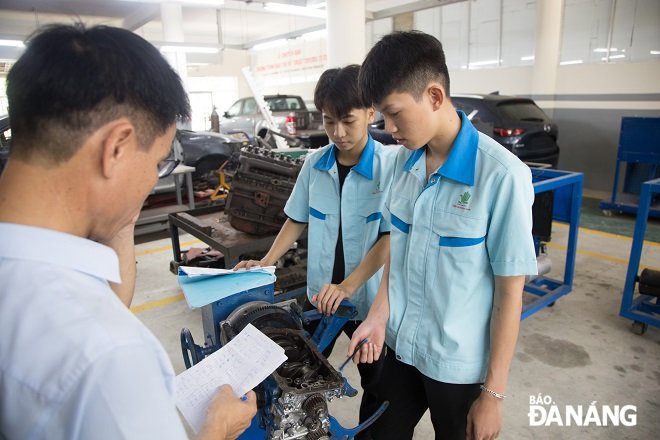 Students are exposed to machinery related to their majors from an early age. Photo: CHANH LAM
Ms. Huynh Thi Anh Tuyet, who is working at the Human Resources Department of the Kad Industrial S.A Viet Nam Co., Ltd., said that her company has recently received an increasing number of orders from European markets. However, it has found very difficult to keep up with production and export progress because of the lack of workers. The number of skilled workers only reaches 20% of the recruitment demand of enterprises.
In an effort to deal with the problem, the company has come up with a policy to encourage its workers to introduce relatives and friends to work at the company with the introduction fees ranging from VND500,000 to 2,000,000 VND per person.
Also, her enterprise has cooperated with vocational schools in mountainous areas to train and introduce apprentices after completing courses at the school.
Vocational training not only helps students save training costs and time for themselves and the society, but also helps them quickly join the skilled workforce, hereby contributing to solving social security problems in the city.
Reporting by THU DUYEN, CHANH LAM - Translating by M.DUNG
.