Vital role of teachers in inspiring pupils to study history
July 14, 2022, 22:04 [GMT+7]
The official information that history will be a both compulsory and optional subject in the senior high school curriculum as from the 2022 - 2023 academic year has drawn special public concern.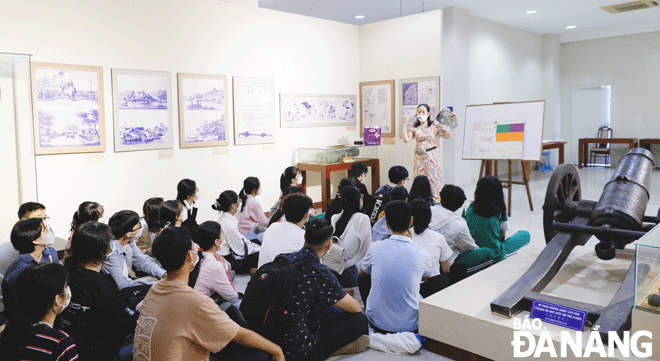 Pupils of the Phan Chau Trinh Senior High School studying history at the Museum of Da Nang. Photo: NGOC HA
Helping pupils better understand the origin of the nation
Le Anh Thu, who has just been admitted to the Phan Chau Trinh Senior High School, excitedly shared that history is really necessary.
"Studying history helps us understand the origin of the nation, and the process of building and defending of the country, thereby raising the sense of responsibility of the young generation in defending the homeland" said Thu.
Meanwhile, Ngo Nhu Y, an 11th grader at the Hoang Hoa Tham Senior High School, said that the Ministry of Education and Training's decision has just created more opportunities for pupils interested in history to learn more deeply and improve their knowledge of this subject.
Not only students, many parents also expressed their joy when history is respected.
Mr. Huynh Kim Chung, a parent of an 11th grader at the Le Quy Don Senior High School for the Gifted shared his point of viewed that history helps pupils better understand the origin of the nation, and the importance of the construction and defence of the fatherland of previous generations.
He also highlighted the significance of the subject in developing human in a comprehensive manner and arousing patriotic traditions and national pride among the young.
However, both parents and pupils hoped that the teaching and learning of history need to change in order to comprehensively develop students' abilities and personalities.
"The renovation of history teaching method was to fundamentally change the way students approach the subject, which was not about memorising dates and numbers and events in a linear order" said Nhu Y.
Y added that if each history lesson is taught through actual videos and images will arouse pupils' interest. She also stressed the need for schools to organise practical field trips to historical relic sites so as to get more insight and practicality for the lesson.
Vital role of history teachers in inspiring pupils
According to Ms. Truong Thi Thu Trang, a history teacher from the Son Tra Senior High School, the problem is not to make history become a 'compulsory' or 'optional' subject, but the problem is what teachers need to do in order to help pupils erase the stereotype of 'history is long, dry, difficult to remember' and have an enthusiastic attitude when participating in history lessons.
Sharing the same opinion, teacher Nguyen Van Quyen from the Cam Le District-based Nguyen Van Linh Junior High School, highlighted the vital role of history teachers in inspiring students.
According to Mr. Quyen, teachers' first task is to arouse in students a love and passion for history through the emotions from their lectures and stories.
Reporting by NGOC HA - Translating by M.DUNG
.