President Nguyen Xuan Phuc meets with retired cadres in Central Viet Nam
January 17, 2022, 11:21 [GMT+7]
State President Nguyen Xuan Phuc and Permanent member of the Party Central Committee's Secretariat Vo Van Thuong attended a get-together on Sunday afternoon in Da Nang for retired dres in Central Viet Nam.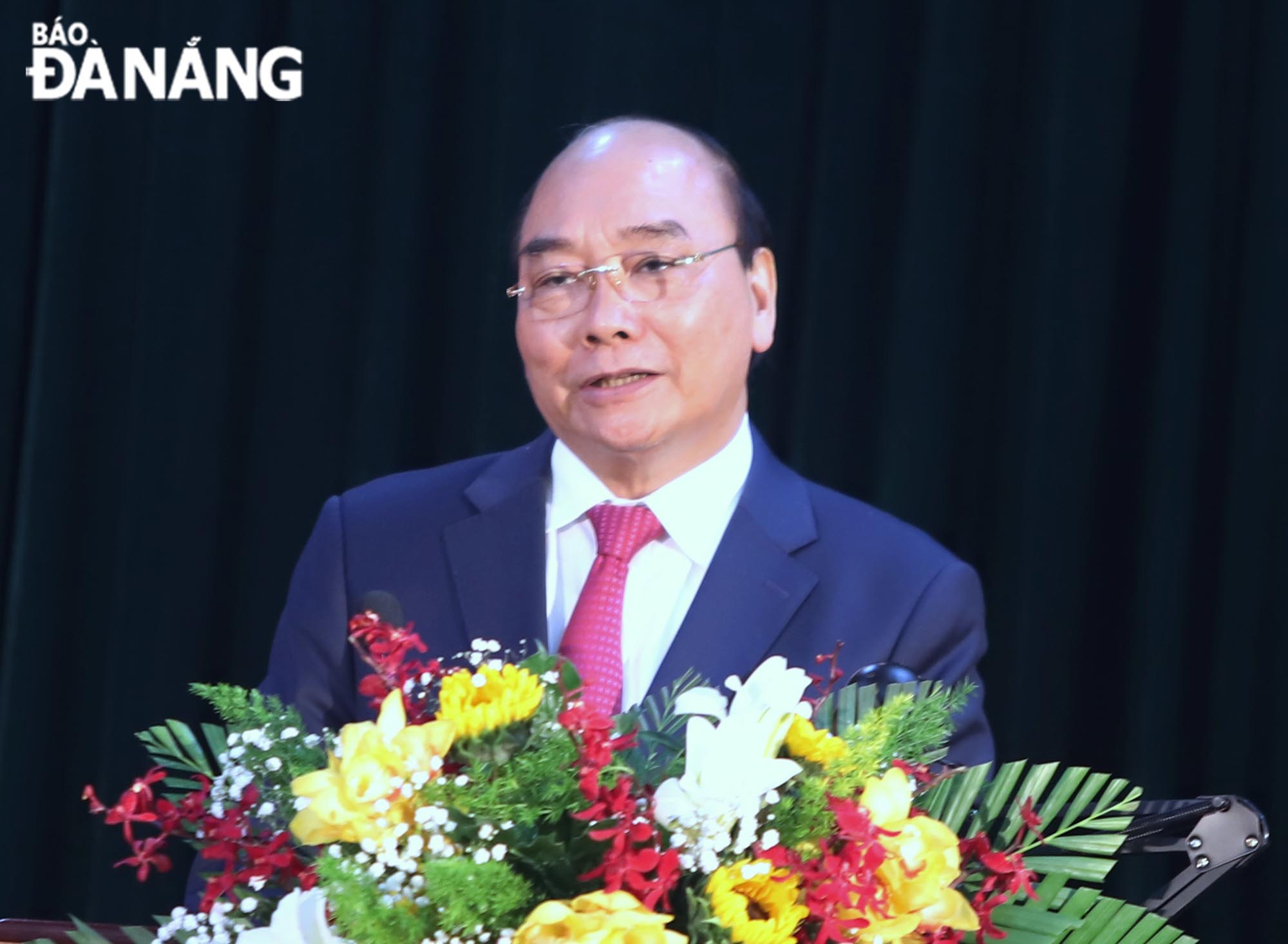 President Phuc speaking at a get-together for retired senior cadres in Central Viet Nam
Also attending the event were Chief Justice of the Supreme People's Court of Viet Nam Nguyen Hoa Binh, Vice Chairmen of the National Assembly Tran Quang Phuong and Nguyen Duc Hai, and leaders of central ministries and branches and localities in Central Viet Nam.
As for Da Nang, the event saw the presence of Secretary of the municipal Party Committee cum Head of the National Assembly Deputies' delegation Nguyen Van Quang, Deputy Secretary of the Party Committee cum Chairman of the People's Council Luong Nguyen Minh Triet, and Deputy Secretary of the Party Committee cum Chairman of the People's Committee Le Trung Chinh.
Speaking at the meeting, President Phuc sent cordial greetings from leaders of the Party and State to retired senior cadres in Central Viet Nam. He also informed the attendees about the country's remarkable results on socio-economic development, national defense and security and foreign policy activities over the past time.
The national government leader highlighted huge efforts the Party, the whole country has overcome pandemic-triggered difficulties, and gradually gained control of the Covid-19 outbreak.
Notably, the elections of deputies to the 15th National Assembly (NA) and all-level People's Councils for the 2021-2026 term were organised successfully with the rate of 99.98%, thereby showing the great faith and support of people from all walks of life towards the leadership of the Party.
At the same time, the country recorded a positive socio-economic growth and was among top 20 countries with the largest trade and the macro-economy. Also, social welfare activities received much attention and timely direction from the central to local authorities.
Viet Nam is one of the six countries with the highest vaccination rate in the world. The provinces and cities nationwide have fully covered the basic doses for people, and many localities have administered the 3rd vaccination booster shots.
President Nguyen Xuan Phuc (left) presenting a gift to a retired senior cadre in Central Viet Nam. Photo: NGOC PHU
With regard to the tasks set for 2022, the President asked cadres and Party members to uphold their responsibilities for well implementing the Party's policies and guidelines, and closely following the spirit of the 13th National Party Congress, at all levels.
Mr Phuc wished all senior retired cadres in Central Viet Nam good health, and hoped that they would continue to promote their revolutionary spirit, bravery, experience and wisdom to the socio-economic growth, and national defense and security in Central Viet Nam and Central Highlands in particular, and the whole country in general.
Reporting by NGOC PHU - Translating by M.DUNG
.