Strict new social distancing restrictions in Da Nang to start from midnight Monday
July 27, 2020, 20:02 [GMT+7]
Da Nang will impose strict new social distancing measures for 15 days, starting from midnight Monday until further notice after 14 new community transmission cases of coronavirus have been confirmed in Da Nang.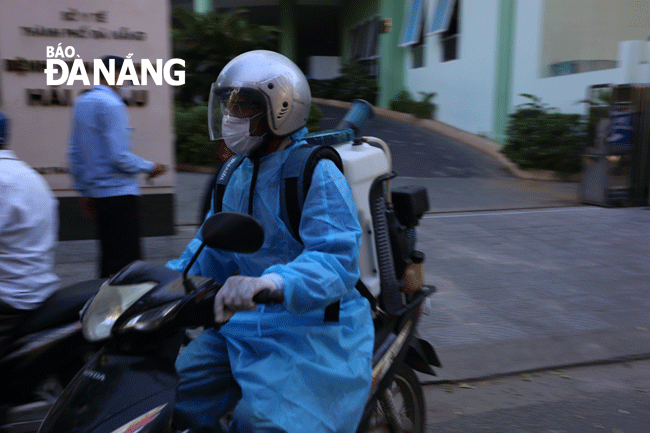 Local medical workers are ready to spray disinfectant in some areas which are at high risk of Covid-19 outbreak
People will be required to maintain a two metre distance from others, and gatherings of more than 2 people are prohibited in public places, except for public offices, schools and hospitals.
Families are advised to keep a distance from families, villages from villages, communes from communes, districts from districts.
Everyone is requested to stay home as much as possible and only go out under absolutely necessary circumstances such as trips for food, medicine, emergency care or for working at essential businesses, factories, and services that have been allowed to continue operating.
Festivals, religious ceremonies, sports and other events that gather a large number of people will be banned.
"Non-essential" businesses including entertainment facilities, beauty salons, massage and karaoke parlors, and bars are already closed.
The operation of fixed passenger transporting vehicles to and from the coach stations and intra-city bus transport services will be suspended during a 15-day period of social distancing.
Mandatory lockdowns will be imposed on the Da Nang General Hospital, the C Hospital and the Da Nang Orthopedic and Rehabilitation Hospital, where the patients visited just before they were diagnosed with Covid-19.
Some sections of the city's major downtown streets will be blocked, namely a section of Quang Trung between its intersections with Nguyen Thi Minh Khai and Dong Da streets, a section of Hai Phong between its intersections with Nguyen Thi Minh Khai and Ong Ich Khiem streets, a part of Ong Ich Khiem between its intersections with Hai Phong and Dong Da streets and a section of Nguyen Thi Minh Khai between its intersections with Quang Trung and Hai Phong streets.
Food and drink providers across the city are asked to offer takeaway and home delivery services.
It is highly recommended that everyone voluntarily declare their health status, take all preventive measures to protect themselves and their family, and engage in Covid-19 prevention and control activities.
By PHAN CHUNG- Translated by ANH THU
.