Da Nang sees growing number of children fall ill due to prolonged bitterly cold weather
January 12, 2021, 10:38 [GMT+7]
Chilly weather prolonging over recent days in many parts of Northern and Central Viet Nam, including Da Nang, has driven many kids into hospitals for treatment. The majority of them have caught respiratory diseases sparked by the unfavourable weather pattern, which prompted a must-do for parents to take cold-resistance measures in favour of their little children amid more new record cold temperatures forecast for Da Nang in the coming days.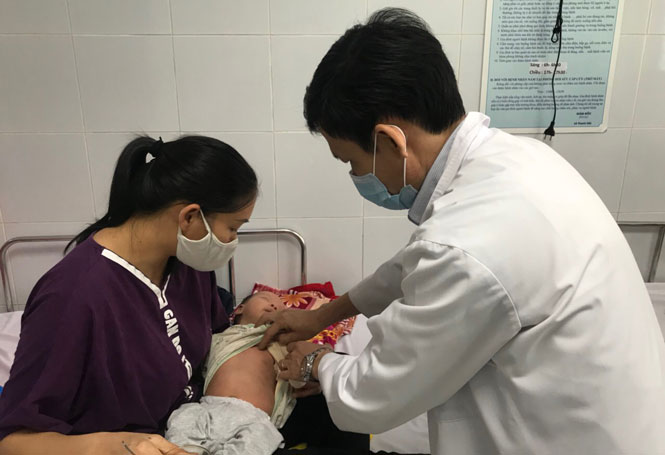 Da Nang has seen a rise in number of child patients falling ill due to prolonged bitterly cold weather (Illustrative image from the internet)
Every day, the Department of General Examination – Emergency at the Da Nang Maternity and Pediatrics Hospital receives a combined total of more than 300 child outpatients suffering various respiratory diseases from Da Nang and elsewhere in Central Viet Nam for check-ups and treatment.
Recently, Ms Le Thi Hoa, a 35- year- old female resident of Nghia Hanh District, Quang Ngai Province rushed her 3-year- old daughter to the Da Nang hospital due to her cough, dizziness, shortness of breath, vomiting and recurrent seizures. Doctors diagnosed her daughter with severe pneumonia. The child patient is now being treated at the Department of Pediatric Respiratory Medicine.
Doctor Le Van Dung, Deputy Head of Department of General Examination - Emergency said the hospital handles an average of about 1,000 pediatric patient arrivals each day, and one third of them suffer from respiratory illnesses.
"The prolonged cold weather has triggered a rise in the number of children suffering from related diseases. It is worrying that as children have respiratory illnesses, especially pneumonia, many parents have always mistaken them for the common cold, so they arbitrarily buy over-the-counter (OTC) drugs for treatment at pharmaceutical stores. Meanwhile, if not detected in timely manner, pneumonia may turn worse" noted doctor Dung.
According to the Department of Pediatric Respiratory Medicine, allergic rhinitis and upper respiratory infections are common diseases children often catch when the weather turn bitterly cold. However, pneumonia and bronchial asthma are really dangerous diseases at this hash moment.
"The lungs and airways of children with asthma become inflamed, interfering with daily activities. Some children can have dangerous attacks. In addition, those with severe pneumonia can experience severe complications of sepsis, meningitis, acute respiratory failure that can lead to death, doctor Nguyen Thi Kim Phuong from the Department of Pediatric Respiratory Medicine said.
To protect their children from respiratory diseases in the cold weather, parents are highly recommended to keep their kids warm, provide them with nutritious meals to strengthen their resistance, and also importantly, ensure their personal hygiene.
"In particular, absolutely do not let children exposed to tobacco smoke in a short-term prevention. Once children show signs of infection, they should be rushed to medical facilities for examinations and treatment rather than taken over-the-counter medicines. For long-term prophylaxis, it is advisable to keep places of residence where the children live clean, and ensure their access to vaccines against diseases in line with Vietnamese Ministry of Health's regulations ", recommended doctor Phuong.
By PHAN CHUNG- Translated by A.T
.