Stronger actions against alcohol harms needed
June 16, 2022, 11:17 [GMT+7]
The Da Nang government has issued an official dispatch to implement the content of Official Dispatch No. 488/CD-TTg dated June 3, 2022 of the Prime Minister on compliance with regulations on preventing harmful effects of alcohol and beer.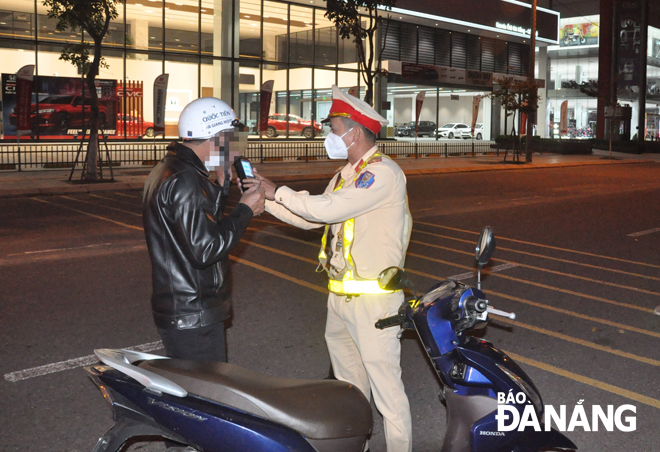 A traffic police officer measuring alcohol concentration for a suspected case. Photo: X.S 
Accordingly, at the request of the Da Nang government, relevant local agencies shall implement the law on preventing and controlling the harmful effects of alcohol and beer.
All local cadres, civil servants, public employees and employees working in agencies and units, officers, non-commissioned officers, professional soldiers and those working in the Viet Nam People's Armed Forces, and students must strictly observe the regulations on the prohibition of alcohol products. They must not drive cars or motorbikes after taking alcohol drinks.
Competent units must strengthen regular patrols and surprise to timely detect and strictly handle traffic drivers with alcohol or narcotics found in their blood and breath.
The municipal Department of Health shall assume the prime responsibility for, and coordinate with other functional units in intensifying the handling of violations of the law on preventing and controlling harmful effects of alcohol and beer according to Decree No. 117/2020/ND-CP of the national government.
The Department of Information and Communications shall beef up the publicity of the above-mentioned law to avoid any traffic accidents caused by drunk drivers with excessive alcohol consumption.
Reporting by LE HUNG - Translating by A.THU
.