Best Da Nang cafés with live music
October 29, 2020, 17:45 [GMT+7]
Da Nang's live music scene comes brimming with beautiful cafes in an increasing trend in their numbers.
Here is a list of live music cafes in Da Nang well worth checking out. Each coffee shop has its own characteristics in terms of design.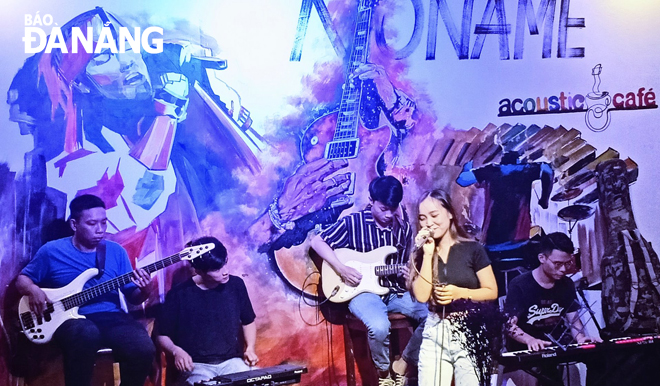 An acoustic music performance at the No Name Café
The Moon Café, located at 6 Le Dinh Duong Street in Hai Chau District, has become very popular with local music lovers.
The Japanese-style coffee shop hosts live music between 8pm and 11pm on weekends. You can immerse yourselves in the beautiful melodies of the acoustic genre, or you can also perform on stage if you want to show off your vocal abilities or playing abilities.
Nguyen Thi Huong Giang, a resident of Ngu Hanh Son District's My An Ward, is one of Moon Café's most loyal customers, and she visits the coffee shop thrice a week.
"Listening to music acts as my mood savior when it always helps me revitalise and recharge myself whenever I'm a bit down in the dump" Giang added.
The No Name café, set on 199 Nguyen Van Thoai in Ngu Hanh Son Street, is also a perfect place for a great night out.
Opened its doors in 2013, the traditional Chinese- style No Nam is one of the first coffee shops with live music in the evening, which have opened in Da Nang.
No Name café boasts a modern western style of interior décor, bringing a young and cheerful atmosphere to its customers.
Mr Pham Quoc Vuong, the owner of No Name Café, said the spread of the coronavirus had a profound impact on the operation of his shop. No Name has seen a low number of customers since it reopened its doors in late September.
"Apart from acoustic music, electronic dance music (EDM) in the evening is also offered by No Name Café twice a week in a bid to meet evolving tastes and preferences of customers, and increase visitor numbers to the shop", Mr Vuong said.
In addition, Thachy (57 Nguyen Chi Thanh), Sound Café (30 An Cu 6) and Cong (96 Bach Dang) are well worth checking out thanks to their beautiful designs, youthful music style and varied drinks menus at affordable prices.
By XUAN DUNG - Translated by M.D
.