Spicy Thai hot pot perfects for chilly weather
November 01, 2021, 09:58 [GMT+7]
It's a question that goes around a lot lately: What do you most want to do during days of " the new normal "? Wandering around to inhale fresh air in the mild weather, meeting friends and cranking up the spicy hot pot are probably three of the first exciting "new normal" activities many people wish to enjoy. So, let's come to Thai Hot Pot Buffet at Thai Market to enjoy a delicious meal in this chilly weather with your loved ones.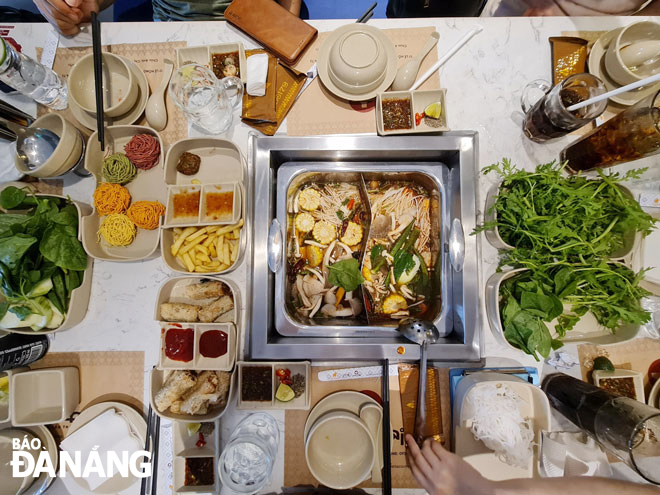 Photo: H.D
Located at 17 Le Hong Phong in the bustling heart of downtown, the 2-storey space of Thai Market is ideal for group gatherings from a few to a large number of people.
The restaurant serves lunch and buffets at an affordable price of around VND 200,000 per person, depending on diners' demands for standard or advanced meals.
The characteristics of Thai hot pot have come from characteristics of its flavorful broth and dipping sauces blending the flavours of lemongrass leaves, lemon, onions, garlic... and lots of chilli. Those being not used to the richness of spices must inhale and sizzle when eating Thai hot pot, but those who are addicted to the sour and spicy taste cannot ignore this favourite dish.
Especially on cold rainy days, the smell of lemongrass and lemon leaves from the hot pot is reminiscent of the herbal scent of a fragrant steaming pot. Apart from that, diverse hot pot side dishes range from noodles, dried rice noodles, fresh vermicelli and lots of vegetables and mushrooms.
What makes Thai Hot Pot Buffet restaurant different from other ones is the stage of choosing the main ingredients such as meat, eggs and fish. Diners do not take it themselves but mark the selection on the paper prepared by the restaurant and brought by waiters to their table with unlimited times. However, most diners often order enough to enjoy.
Moreover, diners can enjoy some free appetizers such as vegetable salad, fried ram, fried spring rolls in Thai style while waiting for the hot pot to boil.
Reporting by HUONG DUONG- Translating by T.VY
.