Beautiful My Khe Beach you cannot miss in the city
November 14, 2018, 17:03 [GMT+7]
The Mother Nature has generously endowed Da Nang with many beautiful beaches, especially the My Khe Beach.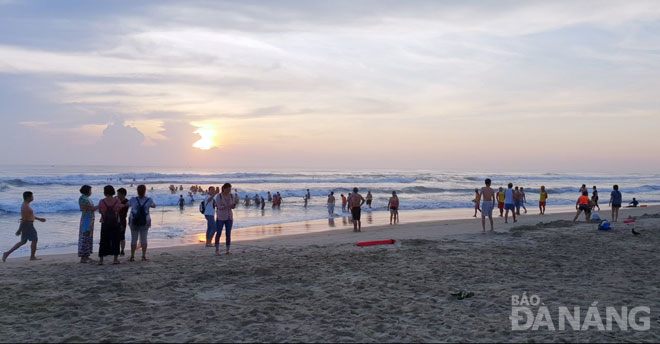 The My Khe Beach is very attractive to both domestic and foreign visitors.
Thanks to its clear blue waters and soft white sands which sparkle in the sunlight, the My Khe beach is very attractive to both domestic and foreign visitors.
Stretching over 10km from the north to the south, the beach is just a 15- minute ride from the centre of the city. Its sea water is quite cool with little waves so you can swim all year's round, especially in summer from May to August.
This beautiful beach is considered as a wonderful place for those who want to enjoy the beauty of nature at sunrise and sunset, as well as to take stunning photos.
The long wide sandy beach is also an ideal venue suitable for visitors to play a wide range of water sports such as parasailing, jet skiing, surfboarding, banana boat riding, and diving.
In addition, numerous beach tourism-related services are being offered for visitors, including public bathing areas, and lifebuoy leasing services.
Moreover, the city's Lifeguard Team, under the Management Board of the Son Tra Peninsula and Da Nang Tourism Beaches, has around 18 groups with 100 members in total. They work on the city's 30km-long beaches which stretch from Lien Chieu District's Xuan Thieu Beach to Ngu Hanh Son District's Non Nuoc Beach.
Each of the groups has between 3 and 5 members and is responsible for different 500m-long sections of the beach. Every day, the lifesavers are on duty from 4.30am - 7.00am, and from 3.00pm - 7.00pm. This has helped to make the locals and visitors feel more secure whilst swimming off the local beaches.
On the global travel website TripAdvisor, Ms Kelly from Singapore remarked the My Khe Beach was very beautiful with its long sandy area and clean water. Going to the northern side of the beach, you can see fishermen carrying newly-caught seafood from their boats to the shore, and traders being very busy buying fresh seafood from the offshore fishermen. Especially, the My Khe Beach is the best place to watch the sun set and rise.
Another visitor from Canada's Kelowna said the My Khe Beach was one of gorgeous and can't-miss places to visit in Da Nang. You could go for a walk along the beach to feel the sand between your toes, and take a deep breath to enjoy fresh air. In addition, you find it very easy to enjoy fresh seafood at restaurants onshore.
In 2005, this beach was voted one of the 6 most beautiful beaches in the world by the US Forbes Magazine. The main reason was that this beautiful beach meets all the requirements of a luxurious beach, including easy traffic and access, free admission for tourists, long and flat sand shore, sunlight and waves suitable for playing beach sports, a variety of high-end resorts and international-standard villas.
Currently, the My Khe Beach remains one of a few tourist destinations in Viet Nam to have earned a rating of 4.5 on a 5-point scale on the global travel website TripAdvisor.
.