Philippines, Indonesia take steps in response to Omicron variant
January 05, 2022, 17:11 [GMT+7]
The Philippine House of Representatives has gone into lockdown to curb the spread of the Omicron variant of the coronavirus while Indonesia has reportedly prepared 120,000 hospital beds to cope with outbreaks caused by this new variant.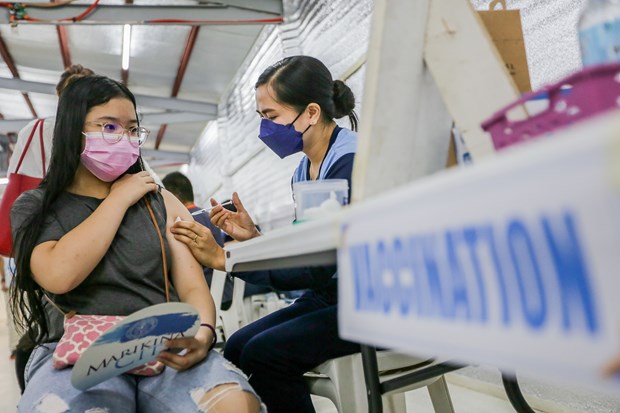 A girl gets vaccinated against COVID-19 in Marikina city, the Philippines, on November 29, 2021 (Photo: Xinhua/VNA)
Secretary General of the Philippine House of Representatives Mark Llandro Mendoza said the lower house is currently under lockdown to prevent the spread of the Omicron variant to ensure the safety of its members, secretariat, and employees.
Meanwhile, head of the upper house Vicente Sotto said there have been no reports about infections with the virus among lawmakers.
Both chambers of the Philippine parliament are scheduled to get back to work on January 17.
The number of new COVID-19 cases in this country recently hit a two-month high. After Omicron infections were reported in the community, the Philippine Department of Health has warned about a surge in new cases on the coming days.
To date, the Philippines has confirmed over 2.8 million coronavirus cases and more than 50,000 related fatalities, according to the health ministry.
In Indonesia, Minister of Health Budi Gunadi Sadikin said the country has prepared 120,000 hospital beds, along with medical supplies, in anticipation of new outbreaks caused by the Omicron variant.
Talking to the press on January 3, he said Indonesia has allocated 120,000 or 30 percent of 400,000 beds at hospitals for treating COVID-19 patients.
He noted the Government will also ensure sufficient oxygen supply for hospitals, adding that it has secured 16,000 oxygen concentrators equivalent to 800 tonnes of oxygen per day to be distributed to all hospitals in Indonesia, especially those with difficult access to oxygen.
In addition, the Indonesian Government has procured Molnupiravir, a drug that has been proved to be able to reduce the symptoms of COVID-19 patients, the official added.
Source: VNA
.