Son Tra Peninsula planning project wins American excellence prize
Published: July 10, 2014
The Son Tra Peninsula Strategic Vision Plan, which was drawn up by Skidmore, Owings and Merrill LLP (SOM) from the USA, has been awarded the excellence prize by the American Institute of Architects (AIA).
Covering an area of 60km2, the Son Tra Peninsula project outlines strategies to guide future development and to protect the peninsula's natural assets, which are currently threatened by economic development pressures.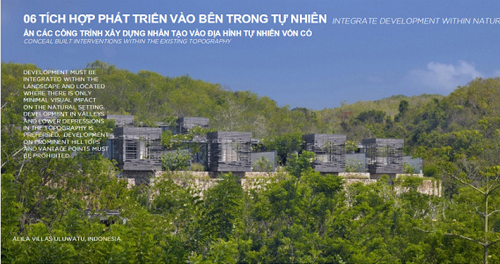 An architect's idea from the Son Tra Peninsula Strategic Vision Plan
According to SOM's plan, there should be no construction work on areas which are higher than 100m above sea-level. In addition, SOM also suggests locations for the city's economic development without affecting the peninsula's landscape and environment.
Under the plan, the peninsula will be designated as a new national park in Viet Nam in order to protect sustainable natural resources. Special attention will be paid to promoting eco-tourism with a focus on tourism activities inland and in the sea. These include tours to discover the precious natural resources and the underwater world, outdoor activities, walking, traditional sporting events, and wildlife conservation activities both on land and under sea.
.