Boosting development of river tourism
Published: March 14, 2017
To date, only 11 trip boats have been re-licensed to resume operations on Da Nang's Han River following the capsizing of the Thao Van 2 trip boat on 4 June 2016.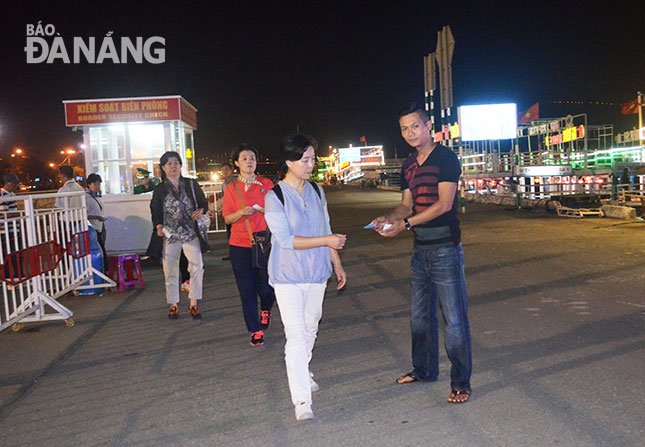 Passengers having their tickets checked before boarding
According to the latest statistics released by the municipal Tourism Department, an average of 850 visitors take river tours each weekday evening, and that figure increases to between 1,300 and 1,400 at weekends. This is an encouraging sign for the tourist boats currently operating on the river.
In addition to upgrading their facilities, the owners and onboard staff have focused on developing a friendly and polite attitude and behaviour towards their customers. As an alternative to tour guides onboard, some boats play recordings of useful information about the city's bridges and popular tourist attractions, spoken in Vietnamese, English and Korean.
After the tragic accident of the Thao Van 2 trip boat, the municipal Department of Tourism and local relevant agencies have checked the operation of all the tourist boats on the Han River. Special attention has been paid to banning unlicensed boats from picking up passengers, and providing training courses for boat skippers and crew members. Signboards about the tourist boats have been erected, and the list of re-licensed trip boats has been sent to all the local travel agencies.
Greater efforts are being made to accelerate the construction of the 1st stage of the Han River Port project, as well as to develop plans for building 6 trip boat piers in order to promote the development of inland waterway tourism. In addition, surveys are being conducted about tours on such rivers as the Cu De, Tuy Loan and Thai Lai, and tours around the Son Tra Peninsula.
.