New urban areas developed along Co Co River
Published: June 22, 2017
Under Viet Nam's master plan for tourism development by 2020 with a vision towards 2030, Da Nang and Quang Nam Province's Hoi An City are considered as key destinations to further the tourism development for south-central coast region, and the country as a whole. The dredging of the Co Co River, which connects Da Nang with Hoi An, will open up an opportunity to develop the tourism sector in the 2 localities.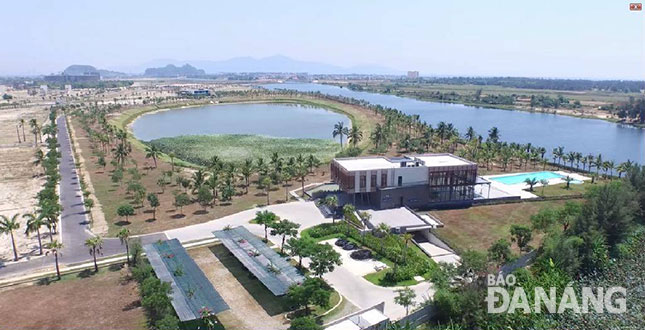 The FPT City urban area along the Co Co River under construction
Over recent years, the Da Nang authorities have, therefore, made every effort to develop urban, holiday tourism infrastructure, and riverside eco-urban areas along the Co Co River.
In particular, as part of the Quan The Am (Avalokitesvara) Festival 2017 in March, a wide range of cultural and sports activities took place on the river. Amongst them were a traditional boat race, along with a scene depicting General Tran Khac Chung saving Princess Huyen Tran and taking her to Dai Viet Capital. They all left good impression on both locals and visitors.
In addition, the city has seen a boom in the number of luxury eco-urban and holiday resort projects along both banks of the river. Included are the Co Co eco-urban area and the Phu My An residential urban.
Recently, the Dat Xanh Mien Trung Company and the Dat Quang Company together entered into an agreement to develop the Riverside Green City Urban Area project. Located along the Co Co River at the administrative boundary between Da Nang and Quang Nam Province, the project will cover an area of 15.1ha. The project will be designed as a model of Singapore City, with a total investment of 180 billion VND used for infrastructure construction. Under the project, 500 residential land lots, plus restaurants, supermarkets and hotels will be created.
There are also a FPT City Da Nang complex featuring an urban area and hi-tech offices in Ngu Hanh Son District, plus the CocoBay Resort Da Nang on the eastern bank of the river which is the largest entertainment and tourism complex in Southeast Asia
.