CocoBay to become Viet Nam's first resort to use solar power system
Published: August 23, 2017
A Da Nang resort will soon become the country's first solar-powered entertainment complex, highlighting the coastal city's push towards renewable energy sources.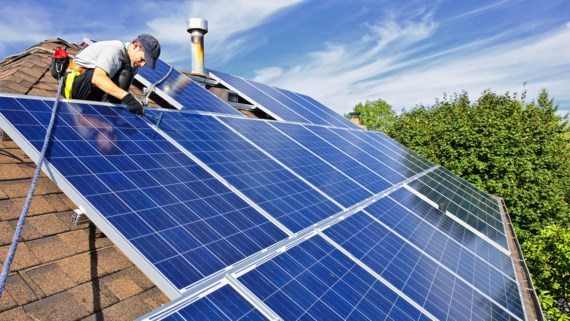 Illustrative image
The solar power system at the CocoBay resort will save 4.5% of total energy consumption at its 31ha entertainment centre, and reduce the complex's carbon emissions by 45 tonnes each year. The first phase of the project will become operational later this year.
The project will be built by the HCM City-based SolarBK company following an agreement with the Empire Group, CocoBay's parent company.
The CocoBay solar project follows its previous investment in renewable energy in Da Nang. The city is the first city in Viet Nam to promote clean energy solutions for residential use. In addition, Da Nang has been developed into an attractive tourist destination with green and high-tech industries.
According to a report from the city's Industry and Trade department, around 30% of local population uses solar-powered heaters, whilst five-star hotels and resorts have used the solar power heater systems as an environmentally friendly cost-saving measure.
Da Nang also developed a pilot project of installing a solar power system for 2 deep-sea fishing vessels.
In 2014, a small solar power system was built in FPT Complex project – the Information Technology (IT) Service Centre – to supply 12kWh each day. The project also has a solar-power heater system with a capacity of 1,500 litres.
Between 2011 and 2015, the city cut down a total of 12,000 tonnes of carbon emissions to save 433,000 USD by using nano-lighting technology in its public lighting system.
Moreover, the focus will be developing 2 solar power stations on buildings in 2020, which will generate electricity for the buildings where they are installed.
A representative of SolarBK told Viet Nam News the CocoBay system was designed with a 1.5 MWp (megawatts photovoltaic) capacity at a total investment of 1.8 million USD in the 2017-2019 period. As planned, the system will provide 67,640 kilowats per hour (KWh) in total per year.
The project is not SolarBK's first foray into solar power at hospitality complexes. Previously, SolarBK had built a 4,000-litre solar powered heater system at the 5-start Naman Retreat Resort which is also operated by the Empire Group.
Last year, the company began construction of a high-tech renewable energy device factory complex in Ba Ria-Vung Tau Province at a total investment of 385 billion VND(17 million USD).
SolarBK also completed construction of a solar-powered lighting system in the Truong Sa (Spratly) Island and a solar power-driven sea water filtration system on Viet Nam's Song Tu Tay Island.
(Source: VNS/ DA NANG Today)
.