Positive tourism growth attracts hotel and resort investors to the city
The rapid and stable growth of tourism has become a magnet for tourism property projects in Da Nang over the past decade, and revenue from the 'green' industry contributed nearly 30% of the tourism hub's Gross Regional Domestic Product (GRDP) in 2017.
A 22-storey five-star Grand Tourane hotel
Booming hotel and resort projects now offer 28,000 rooms – 10 times as many as in 2007 – for the 15 million tourists expected to visit the city in 2030.
Chairman of the city's Tourism Association Huynh Tan Vinh said tourism also created 140,000 jobs for local and neighbouring employees - 25% of the city's labour force.
Mr Vinh said the unique landscape of coast, rivers, and mountains as well as the nature reserves in the Son Tra and Ba Na-Nui Chua attracted a total of 6.7 million tourists, of which 2.3 million were foreigners, to the city in 2017. In the first half of 2018, 3.3 million visitors, including 1.6 foreigners, flocked to the city.
He said the tourism boom had attracted huge investment in tourism property for future growth, and most big property developers had invested along the city's 90km coastline.
The city has become a landing site for luxury hotel brands, including Novotel, Fusion Suite, and Sheraton, and local groups Vinpearl, Sovico, Furama, Da Phuoc Urban, and Muong Thanh commencing work on their projects in the city between 2013-15.
A landmark of the city's tourism property boom was on the occasion of the Asia-Pacific Economic Co-operation (APEC) meetings, when the city hosted 15,000 participants, economic leaders, CEOs, journalists, and top investors around the world.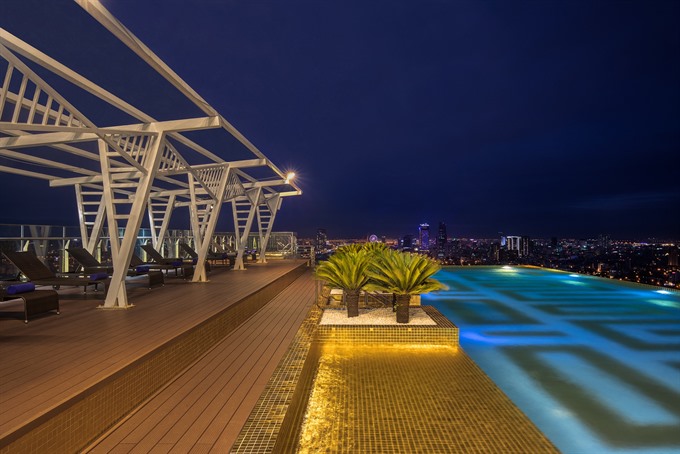 Citadines Blue Cove Da Nang is the latest launched project of Singapore's Ascott near Da Nang Bay. It's the largest serviced residence of the group in Viet Nam.
Two key projects – the Tourism Entertainment Complex CocoBay Da Nang project belonging to Empire Group and the Soleil Da Nang five-star hotel and luxury apartment complex project on the My Khe Beach —had total investment of 1.06 billion USD.
Soleil Da Nang is the biggest apartment and hotel complex project in the city with a 58-storey five-star hotel and three 47-storey apartments, and will launch 1,000 luxury flats in 2020.
According to the city's Investment Promotion Agency, the city is designed as a destination for foreign investment in Viet Nam, and has been in the top-five group on the Provincial Competitive Index (PCI) for the past six years.
Da Nang is the most mature coastal market, catering to a range of visitors, including traditional and MICE guests. Apart from its beautiful beaches, the city is also the economic hub of Viet Nam. Most of the city's upscale accommodation is found along the white sandy beaches of Ngu Hanh Son, Son Tra and Thanh Khe.
These hotels and resorts and recreational projects were built on the coastal road linking Da Nang and Hoi An with two golf courses – Montgomerie Links Viet Nam and Da Nang Golf Club – making Da Nang a favourite destination and ideal recreational habitat in Central Viet Nam.
Ms Huynh Thi Thanh Thao, manager of the Thien Kim Property Transaction Centre in the city, said coastal projects were priced at nearly 1,600 USD to 4,400 USD per square metre.
"The price of small real estate projects, including terraced houses, villas, and apartments, along the coast from Da Nang to Hoi An, had increased by 8-10%," Ms Thao said.
She said the sale of coastal property projects covering an area of 17-20ha was booming before of APEC, and at least 20 hotel projects valued at 18 million USD had been sold in the first half of 2017.
According to Mr Nguyen Manh Tuan from the city's Real Estate Association, the Ariyana Convention Centre – the main meeting point for the APEC events, its condotel and villa projects had also offered beachfront apartments at an annual 10% interest for investors over 10 years.
Da Nang is a favourite site for giant property Vinacapital Group, which poured at least 200 million USD into tourism property projects from 2006-2017.
New investors
Singapore's Ascott Limited officially launched Viet Nam's largest serviced residence, the 548-unit Citadines Blue Cove Da Nang by the Han River on the Son Tra Peninsula and overlooking Da Nang Bay, making it as Ascott's first property in Da Nang and its largest property globally.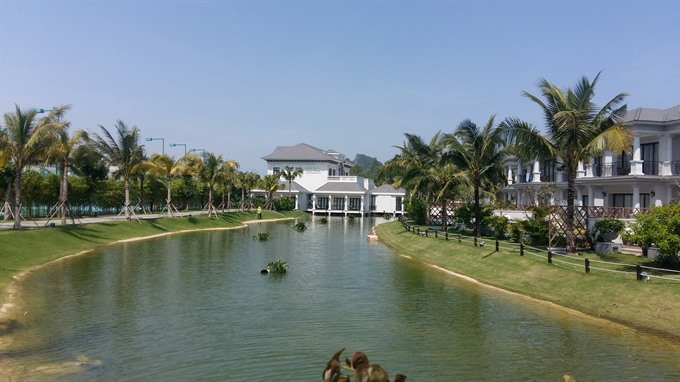 Vinpearl Da Nang Resort&Spa is the second resort of Vinpearl Group in Da Nang
Lew Yen Ping, Ascott's Country General Manager for Viet Nam, said: "Viet Nam is Ascott's largest market in Southeast Asia, where demand for serviced residences remains high. We currently have 21 properties offering close to 4,700 units across seven cities in the country."
"More than 2,000 units across nine properties are slated to open in HCM City, Ha Noi, Da Nang, Ha Long City and Binh Duong Province. We look forward to providing more accommodation choices in the fast-expanding Viet Nam market and are committed to achieving our target of 7,000 units in the country by 2020," she said.
She continued: "Citadines Blue Cove Da Nang would widen Ascott's brand offerings in Viet Nam where it has a well-established reputation built over 20-years with the Somerset brand."
In 2017, Route Inn Group from Japan launched its first ever four-star hotel project – the Grandvrio Da Nang City – in the central city, marking its first appearance in Viet Nam's hospitality market, and the start of a plan to develop a chain of 50 hotels in the country.
The group also said it's the first step on the way to entering the country's tourism and accommodation market.
Route Inn Group also debuted its five-star Grand Ocean Resort in Quang Nam Province in 2018.
In 2015, Route Inn Group signed a Memorandum of Understanding with Da Nang-based Dong A College on tourism service training.
As scheduled, Route Inn will recruit 200 graduates from the college starting in 2018 to serve a chain of 320 hotels in Japan and Viet Nam.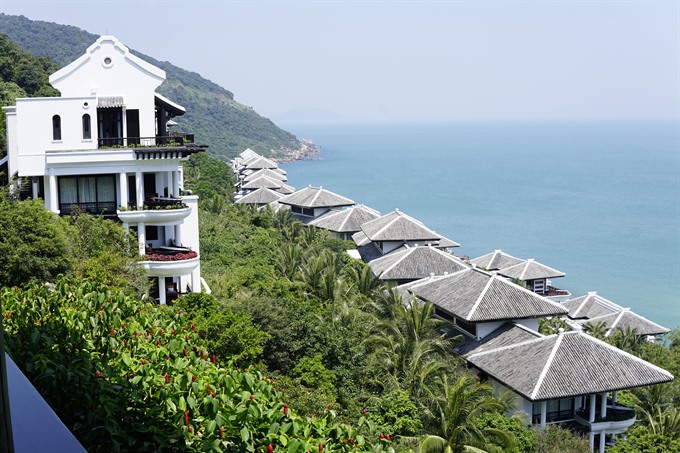 The InterContinental Danang Sun Peninsula Resort
New trend
In July of 2018, more than 100 owners, developers and industrial experts in the field of hotel and resorts real estate attended a meeting themed Da Nang Hotel Solutions 2018.
Director of Savills Hotels Asia Pacific, Mauro Gasparotti, said Viet Nam had witnessed rapid growth of international hotel brands and foreign management companies over the past few years.
"There are four types of megatrends that have strong impacts on global travel, including technology, change in consumer behaviours, demographic shift and transportation infrastructure," he said.
"Vietnamese developers are encouraged to study these megatrends to identify and apply to future products and developments instead of duplicating what has already been built. Guests are now seeking an experience, not just a place to sleep. With technology development, they can easily check and select the best offer on the internet."
Mr Bryan Chan, a representative of IHG Group, said: "As one of the largest populations in Southeast Asia enjoying double-digit arrivals growth and sustained economic growth, we are very upbeat about the Viet Nam market and see opportunities to expand in numerous segments."
"Location-wise it includes not only large cities including HCM City, Ha Noi, Da Nang and Hai Phong, but also smaller satellite towns that serve as strong business and industrial feeders of Binh Duong and Vung Tau."
Daniel Steinke from Akaryn Hotel Group, said: "Millennials are looking for a more active vacation and more fun. It is not good enough anymore to have a nice resort where you lie on the beach and have nice cocktails. They want to explore, they want an authentic experience of the country and the surroundings they are in."
Naman Retreat resort in Da Nang,invested by Empire Group, offers an entertainment site on beach
Property market
In a report on Da Nang's real estate market in the first half of 2018, Savills said the city had continued to establish itself as a leading destination for domestic and international tourists with 29% growth. International visitors were up 47% to a total of 1.6 million.
It said at least 1,400 three-to-five-star rooms will come online from the second half of 2018, while three new apartment projects will provide 830 units to the market later in the year.
Tourism real estate remains a popular investment magnet in the central city, attracting 25 foreign direct investment (FDI) projects worth 1.8 billion USD – 54% of total FDI capital in the city.
To date, the city has attracted 609 FDI projects, worth $3.1 billion, of which 174, worth $2.19 billion, are in the service sector.
More than 2,200 businesses were established in the first half of 2018 with registered investment capital of 495 million USD.
(Source: VNS/ DA NANG)
.