Overcoming startup fear of failure
Developing start-up projects is very tough as challenges, difficulties, and even repeated failures can become common startup problems. "Failures, mistakes, screw-ups and shortcomings not only make us uniquely who we are, but also teach us powerful lessons", said start-up entrepreneurs from Israel, which has earned the moniker of "Startup Nation" mostly because it has largest number of startups per capita in the world.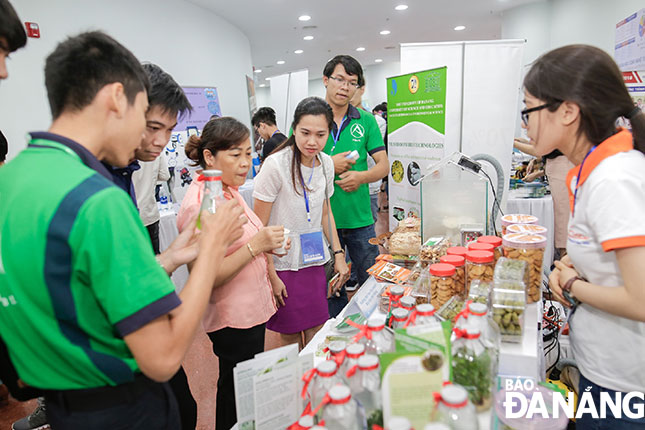 Business representatives introducing his products at the 3rd International Startup Conference and Exhibition, or SURF 2018
Before his admission to the Da Nang Coordination Council for Business Start-up Network (DSC) Le Quoc Nhat, 26, had a chance to attend a one-year training course in agriculture and forestry in Israel.
On a narrow strip of land in the Middle East, the Israeli people surpassed the harshness of nature by their own creativity and hard work. They planted the seeds of hope on this land.
During his stay in the world's leading innovation country, Nhat was very impressed by the story of the Openday Festival - the country's largest spring agricultural exhibition.
On show were hundreds of booths displaying prime agricultural produce and cutting-edge farming equipment and tools
The 2-day festival attracted a large number of farm owners who want to look for new equipment and products that optimise agricultural productivity and maximise total net benefits.
There were so many interesting things at the fair, including the sale of native bees used to pollinate fruit trees, advanced tractors, or even 'grotesque' things such as root conditioning machines, and hexagonal shielding plates.
In particular, Nhat realised the most precious thing that he learned during his stay in Israel is creative thinking, neither agricultural techniques nor technologies which might become out of date day after day.
Openday is an event welcoming "crazy and ridiculous ideas" not only from Israeli companies and others around the world, and bringing them to fruition.
During his talk with Da Nang's start-up businesses at the end of June, Israeli Ambassador to Viet Nam Nadav Eshcar said most startups fail in early stages as more and more enter the startup space, chance of survival is further reduced.
The Israeli government is always willing to lend money to these companies in a bid to help them maintain their operation to realise their ideas. However, once successfully operational, companies must pay back the money they have received from the national government.
Experienced Israeli startup professionals underlined a need for Da Nang's would-be startup entrepreneurs to be creative and dare to take risks and not be afraid of failure, learning from experience to fuel future success. Success consists of going from failure to failure without loss of enthusiasm.
The Israeli ambassador also inspired young people in Da Nang to pursue their studies on science and technologies and to be more self-confident. It is necessary for young people to be more confident, and take the initiative to develop their start-up ideas and make their dreams come true. Fearlessness of failure, ability to ask questions, international-scale thinking and curiosity are the qualities needed to become a successful entrepreneur.
.