STEMbot project nurtures technological dreams
Published: September 09, 2018
STEM education (science, technology, engineering and mathematics) is an interdisciplinary and applied approach being used at many schools in Da Nang with effective results. Rather than teach the 4 disciplines as separate and discrete subjects, STEM integrates them into a cohesive learning paradigm based on real-world applications. For parents who want to give their children additional opportunities to learn and practice STEM skills, quality STEM toys can be a great option.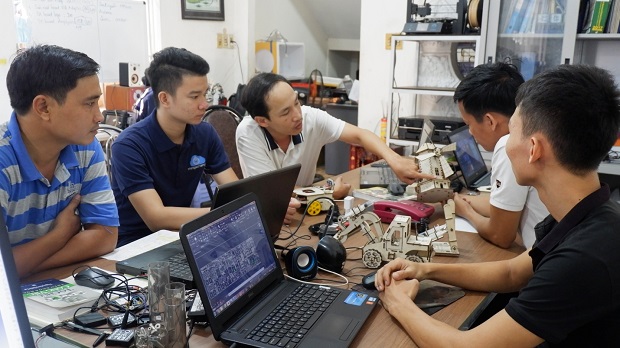 The STEMbot staff discussing the product development ideas
Fully aware of the significance of the STEM education in modern society, 3 former students from the Da Nang University of Science and Technology – Tran Ngoc Viet, Phan Chanh Hien and Nguyen Doan Nam working at the city-based ThingsChanging Co Ltd- have together developed the STEMbot startup project.
The highly practical project aims to research and produce educational toys and STEM education models, in a bid to facilitate pupils and students to turn their STEM theory they learn in their classrooms into prototypes for technological solutions to real-world problems.
The 3 talented men, who were the members of the BKC4 team, attended the Robocon Viet Nam 2006. The trio then grasped the opportunity to meet with the Malaysian team who is from a company manufacturing parts and components used to create or assemble robots. Ten years later, the trio set up the STEMbot startup project.
Hien is in charge of product research and development activities, whilst Viet is responsible for marketing, and Nam gets involved in training and production. In addition, the STEMbot project now employs 4 new employees and a collaborator.
Hien said that the first products in use for the STEM education were introduced on the trio's Facebook page in August 2016, and after that they received a great deal of attention from the public, especially STEM teachers.
About 7 months later, after many modifications, these products were officially introduced for teaching at STEM Robotics centers across Da Nang. Up to now, the STEMbot has worked efectively with a total of 7 distributors in Ha Noi, Nghe An, Hai Phong, Hue, Da Nang, and Ho Chi Minh City.
STEMbot boasts 3 main product categories: STEM Robotics, Sience / Engineering Toys and Inventor Kit.
STEM Robotics features products that serve as toys and educational tools meeting STEM education's requirements as they help users learn how to assemble, connect, learn about technologies and processing, and solve the real-world problems through games, challenges, and competitions.
Science / Engineering Toy offers models of machineries, vehicles, aerospace, power generation models with imitating the operation of these systems in the real world in the most approximate manner.
Inventor Kit is a category of tools and devices that support the creation of highly practical models or products in use for solving real-world problems.
STEMbot has always continually enhanced its product quality so that children from kindergarten to high school levels can quickly acquire ideas for developing thinking. In the coming time, STEMbot will focus on creating topic-based products. For example, under the theme of energy, there will be models using such renewable energy sources as sun, wind, and sea waves, and then incorporate them into models of houses for children to assemble.
After more than 2 years of running the project, the developers have wholeheartedly been engaged in their research and creative activities with the intention of promoting STEM education amongst children of all ages from both home and abroad, thereby helping to early detect and develop future scientific talents.
.