First international air passengers set foot in city on Lunar New Year's Day
February 05, 2019, 16:29 [GMT+7]
On Tuesday morning, a total of 1,500 international air passengers set foot in Da Nang on Lunar New Year's Day (the 1st day of the 1st lunar month).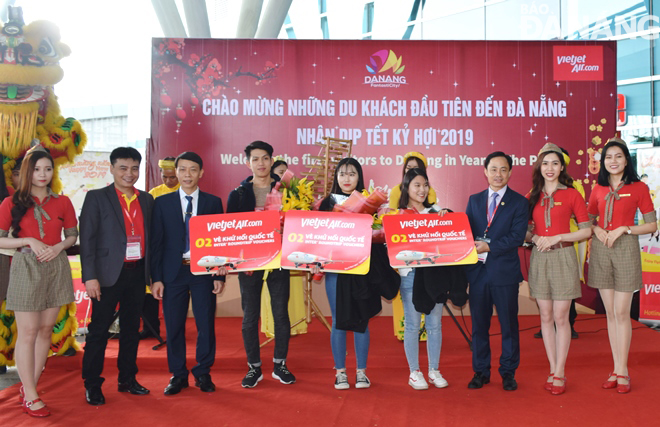 A total of 1,500 international air passengers set foot in Da Nang on Lunar New Year's Day
The foreign first footers from such countries as Hong Kong, Incheon, Busan and Daegu arrived on 10 flights operated by Hong Kong Express-operated by Vietjet, Jetstar Pacific, Silk Air, Air Busan, Jeju Air, Jin Air and T'way Air.
Mr Nguyen Xuan Binh, the Deputy Director of the municipal Department of Tourism, expressed his delight at such a large number of foreign visitors arriving in the city on the 1st day of Tet. "This year, Da Nang is highly expected to welcome even more air passengers from South Korea and other countries in Asia", Mr Binh hoped.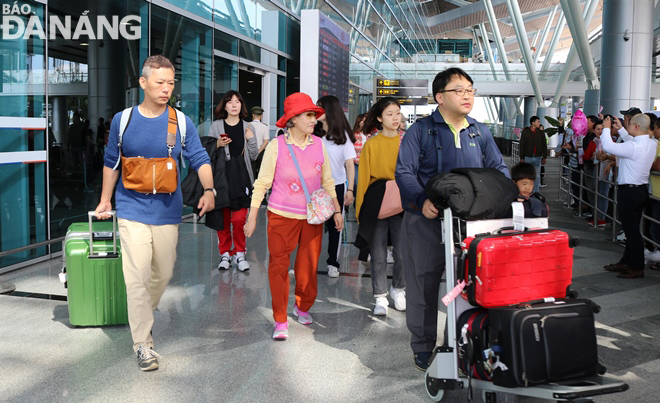 The first air passengers being happy to receive the warm welcome given by representatives from the city authorities
During the ongoing Tet break, every day, the city's airport serves between 60 and 65 international flight arrivals, up 10-15% compared to normal days. Besides, between 65 and 75 domestic flight arrivals bring a large number of tourists to the city during Tet.
On 20 February, the Da Nang International Airport will enter into an agreement with the Chubu Centrair International Airport in Japan to launch non-stop flights between Da Nang and Nagoya .
Currently, there are 15 scheduled and 8 charter direct international air routes connecting Da Nang with other destinations worldwide.
According to the latest figures released by the city's Tourism Department, international air passenger arrivals to the city in 2018 climbed by 48.7% against the previous year to reach about 2.35 million.
In January, the number of air passengers to the city climbed by 44.7% against the same period of the pervious year to 241,700. Also, the city saw 12 cruise ship dockings at the Tien Sa Port, bringing a total of around 20,880 tourist passengers.

.