Da Nang looks for positive signal from tourist confidence
October 13, 2021, 18:32 [GMT+7]
The COVID-19 wave has been put under control in Da Nang, which paved the way for accommodation facilities citywide to be allowed by the municipal administration to welcome guests. Under the new rules, they shall operate no more than 30% of the total number of rooms. However, as observed, most accommodation establishments in the area have still closed their doors, waiting for positive signals from tourist sources.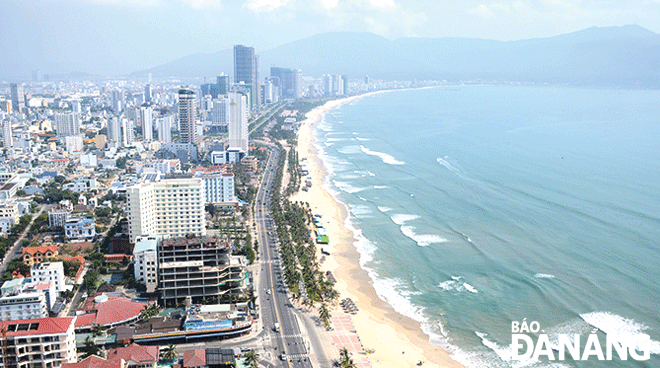 It is a need for Da Nang to develop a plan for synchronously opening activities for the restoration of the tourism industry. Here are hotels stretching along Hoang Sa - Vo Nguyen Giap route, Son Tra District. Photo: NHAT HA
Many hotels reluctant to resume operations
After many days of absence triggered the pandemic, on a number of fan pages specializing in logging services, many Da Nang-based hotels have started posting articles appealing for more room bookings from guests near and far at attractive prices.
For the time being, travellers may be more hesitant than before to take trips Da Nang which has experienced 4 coronavirus waves. Meanwhile, due to the economic impact of the pandemic, the majority of tourists may limit their pocket expenditures on trips.
According to the new regulations, accommodation establishments are allowed to run no more than 30% of the existing rooms. In case, 100% of customers have received the full 2- dose of COVID-19 vaccines or have recovered from this highly contagious disease within the past 6 months, they are allowed to stay in a maximum of 50% of the total number of rooms available.
Most accommodation establishment owners are now very cautious in reopening because currently only logging services are permitted to resume, while a ban on dining and other accompanying services remains in place.
Deputy Director of the municipal Department of Tourism Nguyen Xuan Binh said that, most of the hotels along coastal routes and in the city centre such as Vo Van Kiet, Vo Nguyen Giap, Tran Phu, Yen Bai and Nguyen Van Linh have yet to open.
Meanwhile, hotels and tourist apartments where long-term guests have stayed since the pre-pandemic period are still remaining open.
Some reputable 4-5 star hotels such as Novotel, Sala Danang Beach, Minh Toan Galaxy, Altara Suites, Hyatt Regency, Belle Maison Parosand, Muong Thanh Luxury, Da Nang Han River and Nalod and such small hotels as Song Thu, Binh Duong, Anh Nguyet, Seahorse and Mercury have welcomed scattered guests on business travel.
It is known that some other hotels and resorts are expected to reopen in the rest of this month such as Intercontinental Da Nang Sun Peninsula Resort (October 6), Vinpearl Da Nang Resort and Spa (October 8), Furama Resort Da Nang (October 11), Muong Thanh Luxury Da Nang (October 15), Danang Golden Bay, whilst Melia is slated to open next month.
Meanwhile, most of the remaining hotels have not yet determined their reopening time and they revealed that it is not until next year that they develop plans for resumption.
A need to map put a synchronous tourism resumption plan
According to Deputy General Director of Viet Nam Tourism Joint Stock Company (Vitours) Le Tan Thanh Tung, amid the ongoing rainy and stormy season, it would be difficult for logging facilities to open their doors guests.
However, it is a good idea for the city can take advantage of this halt to administer the second dose of COVID-19 vaccines for people. It is appropriate to simultaneously reopen activities to welcome guests at Tet by December 2021.
Hotels that have resumed their operations are expected to mainly serve local guests through culinary events, conferences and special events at the year-end period and official diplomatic guests from other localities nationwide.
All local accommodation establishments are now looking forward to welcome domestic visitors at Christmas and New Year 2022 from other localities where the pandemic have been brought under control.
As for preparations for the development of tourism products to tempt more visitors back to the city in the coming time, the Da Nang Tourism Promotion Centre is conducting an online survey for domestic tourists from September 19 to October 21 on the Da Nang Tourism Portal (Danangfantasticity.com).
This survey aims to help tourism professionals get an overview of the market situation, tourism demands, visitor behaviour and trends during the post-pandemic time whereby the local tourism industry can make the most appropriate possible adjustments to its products and services in an effort to encourage more domestic tourist comebacks.
The Department of Tourism has also submitted to the city leaders 2 options to welcome domestic tourists and international tourists, respectively, in the new normal.
Both options are designed with a specific roadmap to welcome guests on the basis of ensuring safety measures against COVID-19 under the direction of the national government in order to gradually boosting tourism recovery.
Reporting by NHAT HA – Translating by ANH THU
.