Production recovery in new normal
October 13, 2021, 09:08 [GMT+7]
Most recently, production activities in Da Nang's Hi-Tech Park and Industrial Parks (IPs) have been getting back in full swing with nearly 100% of enterprises here resuming their operations.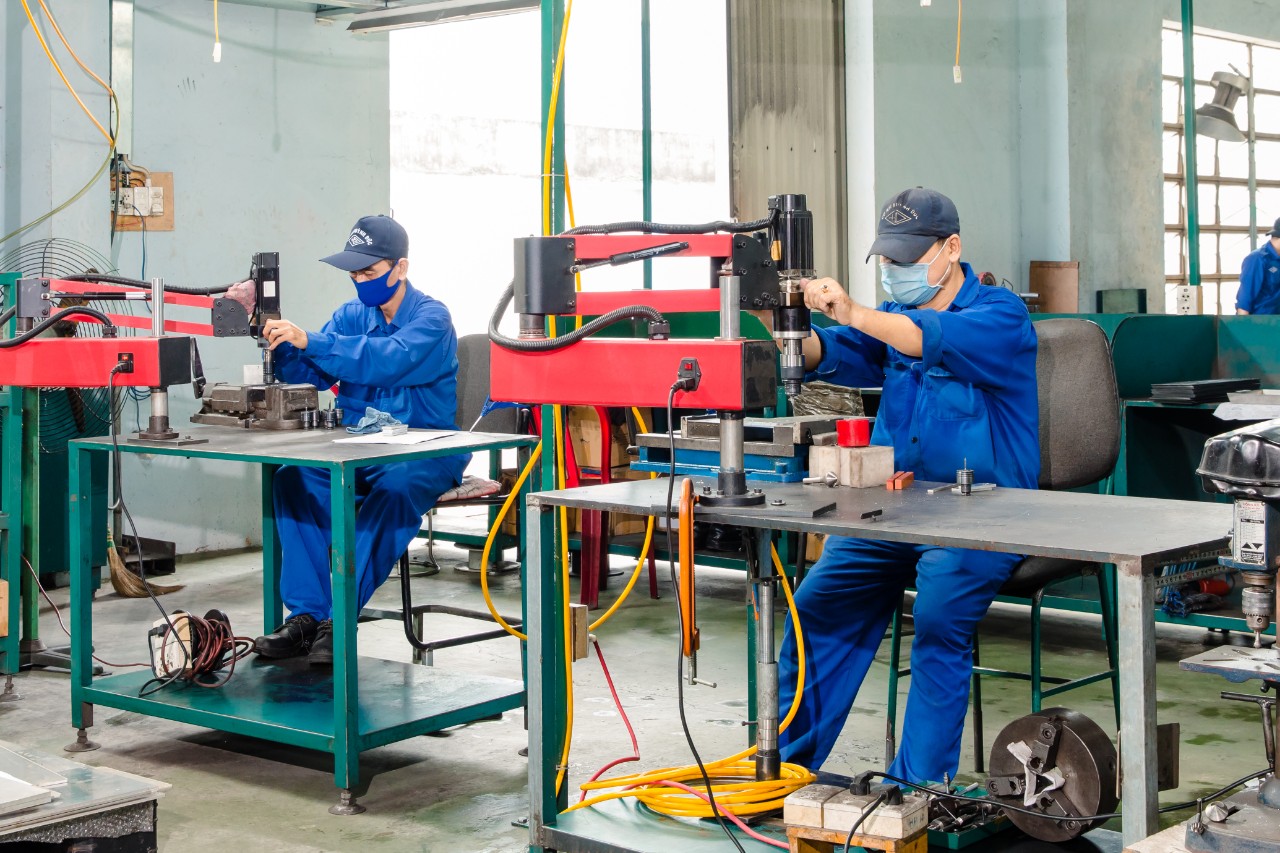 Production activities are pictured at the Huynh Duc Manufacturing Trading Service Company Limited based in the expanded Hoa Khanh IP in Lien Chieu District
A handful of support solutions for such enterprises have been promptly carried out with the aim of helping them drive their post-pandemic production recovery soon. Specifically mentioned are expediting COVID-19 vaccination coverage among IP workers, reducing infrastructure use fees, and issuing guidance on welcome foreign experts and workers back to work.
According to its documents recently sent to businesses based in IPs, Hi-tech Park and dedicated Information Technology (IT) Park, the Authority of Da Nang's Hi-Tech Park and IPs said enterprises are allowed to arrange the maximum number of people to return to work but must strictly comply with the city's current pandemic prevention and control regulations.
In particular, people who receive at least one dose of a COVID 19 vaccine (from 14 days after injection) can return to workplace, and they must strictly follow the Health Ministry-mandated 5K recommendations. Also, regular COVID-19 testing will remain available for IP workers.
Also, enterprises are urged to be equipped with QR code-enabled access control devices which will be used to manage arrivals to IPs.
Anyone who shows COVID-19 infection symptoms such as cough, fever and shortness of breath and chest tightness will undergo mandatory SARS-CoV-2 testing.
Any enterprise which fails to comply with the city's pandemic prevention and control regulations will be forced to be temporarily suspended.
Head of the Authority Pham Truong Son said, as of late September 2021, the Authority had administered at least one dose of a COVID-19 vaccine to a combined total of 57,173 experts and workers in IPs, Hi-tech Park and dedicated IT Park, around 80% of the total. The remaining 14,032 unvaccinated employees will continue to be listed under the guidance of the municipal Department of Health and sent to the unit in charge of vaccination according to regulations.
Mr Son remarked, since May 18, due to the complicated developments of the pandemic, a number of foreigners who are managers, investors, technical experts, and skilled workers of IP enterprises have yet to be allowed to enter Viet Nam, having directly affected the operation of such businesses.
Most notably, some enterprises with damaged machinery and equipment have had their operations suspended due to lack of machinery and foreign skilled repairers.
In the context of the COVID-19 outbreak in Da Nang being basically under control, the Authority has proposed the Da Nang authorities to take into account the simplification of entry registration dossiers for foreigners who are IP experts and their relatives, pupils and students, and holders of diplomatic and official passports, as well as reduction of the time of concentrated medical isolation for fully-vaccinated immigrants.
Reporting by KHANH HOA - Translating by M.D
.