Da Nang unveils plans to welcome tourists back
October 15, 2021, 11:33 [GMT+7]
In order to prepare for the return of tourism activities in Da Nang in the wake of the effective control the COVID-19 surge, the city's tourism industry has developed two plans to welcome domestic and international tourists back, respectively in the new normal. The development of plans to re-exploit the tourist markets is essential to soon restart tourism activities in the city.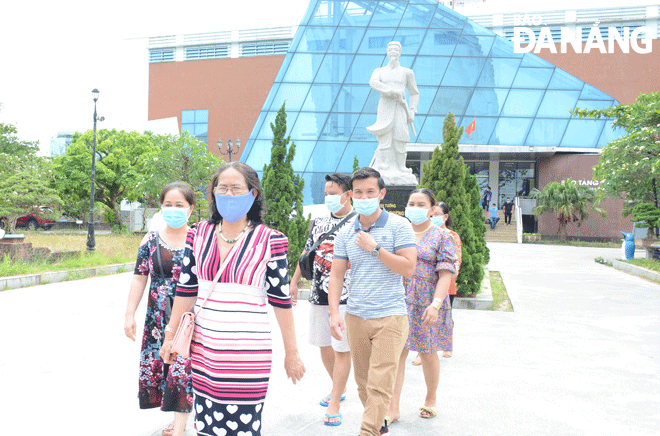 The Da Nang tourism industry has developed two plans to welcome domestic and foreign visitors, respectively in the coming time. Tourists are seen visiting the Da Nang Museum in April 2021. Photo: THU HA
Specific plans for each customer market
The representative of the Department of Tourism said that the plan for tempting domestic tourists back is divided into 4 phases: serving visitors who are local residents in the form of staycation tourism from October 20, welcome guests from Thua Thien Hue, Quang Nam, Ha Noi, Quang Ninh, Hai Phong from November according to bookings of tours/combos through travel agencies, welcoming domestic tourists from other remaining provinces and cities throughout the country once the nationwide pandemic is brought under control on New Year's Day 2022, and operating tour/combo packages that are operated and managed by travel agencies.
Of special notes, service establishments participating in package tours shall ensure the strict practice of COVID-19 prevention rules.
To implement this aforementioned plan, tourists who are Da Nang residents must have the certificate proving their reception of at least one dose of COVID-19 vaccines after 14 days, except for people aged 18 and under and those who cannot get vaccinated due to their health reasons according to the instructions of the competent authority.
Also, the would-be tourists must strictly comply with the 5K regulations recommended by the Vietnamese Ministry of Health and have QR codes when participating in tourism services.
Domestic tourists from the localities of Thua Thien Hue, Quang Nam, Ha Noi, Quang Ninh and Hai Phong must receive a full 2-dose of COVID-19 vaccines. They are not subject to rapid antigen tests and quarantine, but they must take mandatory tour packages /combos designed by travel agencies.
Also, guests aged under 18 must shall posses the certificate of negative rapid test results for SARS-CoV-2 within 72 hours before joining tours, and do not come from pandemic-stricken localities, make medical declarations upon arrival in Da Nang to be granted with QR codes by the competent authority.
Tourists and tour operators are responsible for paying the costs of medical examination, treatment and testing during their entire stay in Da Nang (if any) and expenses incurred in connection with their mandatory quarantine due to close contact with coronavirus-infected people (if any).
Meanwhile, the option to pilot welcoming and serving international visitors to Da Nang in the new normal is divided into 3 phases.
In the first phase, from November 2021, Da Nang will welcome international guests and overseas Vietnamese from abroad who must be fully-vaccinated against COVID-19 and have a negative PCR test result within 72 hours prior to arrival in the city for commercial, official, or family visit purposes.
These guests must stay in the city's designated concentrated quarantine facilities for 7 days and then undergo self- quarantine at home. In particular, they can spend the paid quarantine stay at hotels which serve as temporary quarantine facilities as permission the local authorities.
In the second phase, from January 1, 2022, the central Vietnamese city will welcome international guests who have vaccine passports, negative PCR tests within 72 hours and international health insurance for the purpose of joining tour packages to Da Nang and neighbouring Hoi An in Quang Nam Province.
Travel companies specialising in offering Da Nang tour packages to international tourists must meet COVID-19 prevention conditions in terms of facilities and staff.
The third phase will be carried out once the national government give a nod to the restoration of international flight routes with some compulsory rules as prescribed.
With this option, depending on the actual situation, Da Nang may welcome eligible arrivals from potential markets which have a high level of safety against COVID-19 such as South Korea, Taiwan (China), Hong Kong (China), Japan, Europe, the U.S., Australia, Middle East and Russia.
However, according to the Director of the Department of Tourism Truong Thi Hong Hanh, so as to implement the plans for welcoming foreign guests, it is necessary to ensure accompanying conditions such as reaching an agreement on the vaccine passport for the tourist markets and the pilot implementation of isolated tour packages with contacting no local residents but tourism workers at the authorised tourist spots.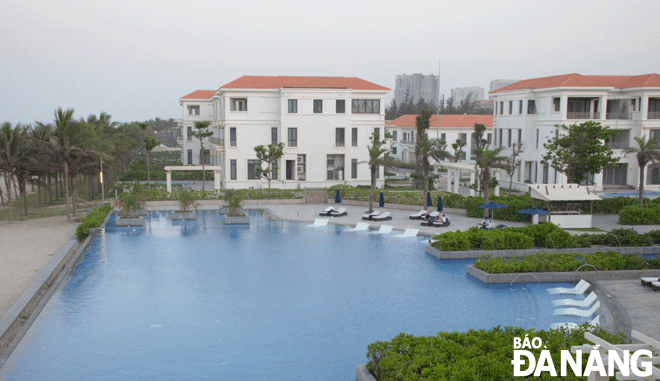 Tourism businesses are expected to serve Da Nang-sourced visitors at resorts. A corner of Sheraton Grand Da Nang Resort is pictured,. Photo: THU HA
Reopening according to licensing progress
Mr. Nguyen Duc Quynh, Standing Vice Chairman of the Da Nang Hotel Association, General Director of Furama Danang Resort said that, to implement the 'tourist bubble' model, it is a must-do to have a bilateral cooperation with attached conditions between signatories. Da Nang should learn more about the effective deployment of this model in some foreign countries.
A tourist bubble is a limited area within the locale which comprises of tourist-oriented attractions and facilities and is separated from its surrounding environment by spatially or psychologically created boundaries. Examples of spatial boundaries is a resort, a cruise ship or a tourist district. Psychological boundaries are set up by advising tourists not to venture beyond the 'tourist bubble'.
According to Mr. Cao Tri Dung, Chairman of the Da Nang Tourism Association, the options to welcome guests meet the strong desire of the city's leaders and the business community. In order to welcome international visitors, there must be official approval made by the national government.
Till date, only Phu Quoc in Kien Giang Province has been approved by the national government to implement a detailed legal framework for tempt international tourists back. The Da Nang administration is expected to ask for permission from the national government to welcome international guests back.
Reporting by THU HA- Translating by A. THU
.