Patiently waiting for conscientious labour forces back to work after COVID-19 wave
October 22, 2021, 10:05 [GMT+7]
Till date business establishments in Da Nang have been reopened, except for certain industries following the city's regulations. However, a large number of workers are still stuck in their hometowns due to COVID-19 pandemic, leading to the temporary short of workers of service businesses. Instead of rushing to recruit new workers, business owners are, for the time being, still patiently waiting for their workers to return to work since those who are dedicated to their jobs are always welcome.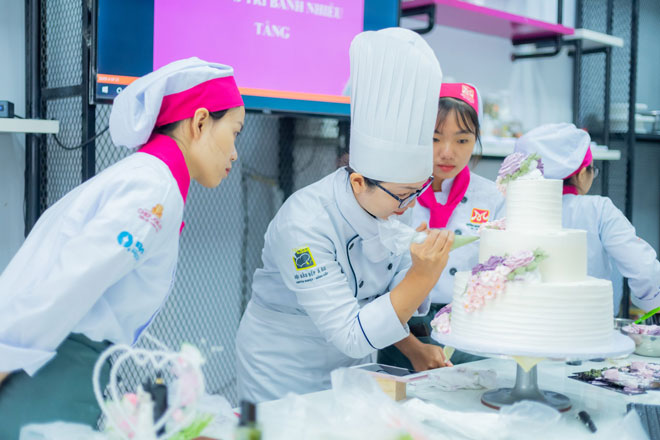 Apprentices not only learn knowledge but are also first trained in service attitude to be able to become professional workers in the future. (Photo courtesy by the Eurasian Vocational Training, taken before COVID-19 resurgence)
Keeping conscientious labour forces to their jobs
Having undergone over 30 years of working in auto maintenance and repair, Mr Nguyen Duc Khanh, Director of Khanh Hong Garage, located at 357 Huynh Ngoc Hue, Thanh Khe District, has experienced many ups and downs during his career path, but the "wave" of COVID -19 is one of the biggest challenges facing him, especially retaining employees so that they can rest assured to wait for the end of the pandemic and continue to stick with the business.
As the city allowed service businesses to reopen in early October 2021, the number of cars brought to Khanh's garage increased by almost as many as before this serious COVID-19 resurgence due to people's need to maintain unused cars for a long time and repair damaged cars in the rainy season.
Therefore, he and all the staff present in Da Nang have made a little more effort to keep the quality of service due to the fact that his 5 workers stuck in their homelands cannot enter Da Nang immediately.
"Although my workers' family circumstances are different, everyone was present at the garage on the first day when they received the notice to return to work. In order for the brothers to get close and overcome challenges together, I have provided income support and given spiritual encouragement during days of work suspension, "said Mr Khanh

"Tired, exhausted yet overjoyed"
In a similar vein, Mr Nguyen Khoa Nhat Phuong, owner of Phuong hair salon, located in126 Mr Ich Khiem, Thanh Khe District, also working in the service attracting visitors right after days complying with social distancing, could not hide happiness when allowed to work after a long time of closing the shop.
On the first day of reopening, customers booked all schedules, but the shop was short of 3 staff stuck in Hue and Quang Tri. However, everyone was happy because it has been a long time since they have worked continuously like that.
"The shortage of workers is only temporary, once the travel permits are completed and workers are fully vaccinated according to regulations, they can return to work immediately. During the tough time of the pandemic, most of my staff wanted to share the common difficulties with me so they did not accept the income support I gave them. They have been accompanied me for 5 to 7 years so I really appreciate this sentiment," Phuong confided.
Need to enhance the dedication and passion for jobs
The customer service industry does not require a high degree, but it needs skilfull workers with a good attitude to satisfy customers. That is also the reason why both Mr Khanh and Mr Phuong are patiently waiting for their workers to come back to work after the pandemic because it is hard to employ staff who are good at skills as well as understanding customers' psychology. For those working in the service industry, only those who determine to stick with the profession and with the working place for a long time will have a hard-working, thoughtful and experienced attitude.
According to Ms. Tran Thi Tuyet Nhung, residing on Thai Phien Street, Hai Chau District, a famous "handmade" baker in Da Nang, the service profession is picky is a true fact. To become a craftsman, staff can learn knowledge via word of mouth or online but there are requirements of the profession that force workers to promote their forte, aptitude and durable practice. In some large bakeries, when apprentices gradually get used to works, they often quit in order to work on their own. Frequent fluctuations are unavoidable in this field, but as long as employees are passionate about their work and have dedication, they can attract customers no matter where they are.
As noted by a representative of the Communication Department of the Eurasian Vocational Training in Da Nang, a successful craftsman must have a professional attitude in addition to professional knowledge because the specifics of service workers is to bring satisfaction and comfort to customers. For that reason, the current training institution attaches great importance to shaping students' attitudes towards lecturers, friends and customers as soon as they enter any course.
Nowadays, young people are somewhat impatient and less hard-working; However, in return, they are proactive, creative and quickly approach new trends. According to service business owners and vocational trainers, as long as young people promote their strengths plus a good service attitude, they will obtain a bunch of good job opportunities, especially in Da Nang city, where the service sector is in need of a large number of skilled workers.
Reporting by TOAN VAN- Translating by T.VY
.