Winners of Top 10 Viet Nam ICT Companies awards account for 61 percent of the country's ICT sector
October 11, 2021, 09:33 [GMT+7]
The 76 information, communication and technology (ICT) firms honoured in the TOP 10 Vietnam ICT Companies 2021 have total revenue of 186.6 trillion VND (8 billion USD), accounting for nearly 61 percent of the whole industry's.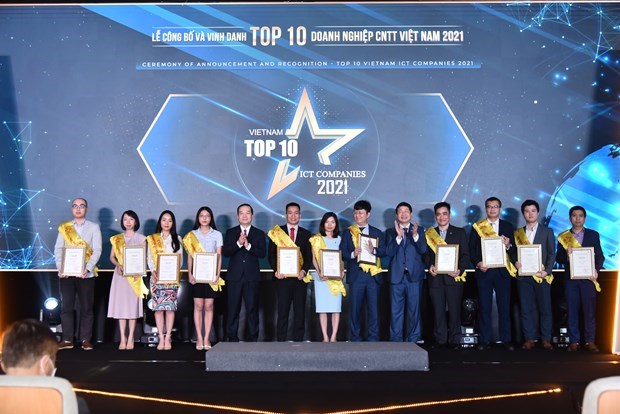 At the ceremony (Photo: VINASA)
The information was revealed at a ceremony to honour the firms held in Ha Noi on October 9. Launched by the Viet Nam Software and IT Services Association (VINASA) in April, the awards received 194 nominations in 18 sectors from 167 businesses, increasing 14 percent and 67 percent in terms of the number of nominations and businesses respectively over last year.
Statistics from the organisation board showed that more than 90 percent of participating firms have been implementing research and applying new technology in the development of new products and solutions.
Speaking at the awards ceremony, Deputy Minister of the Information and Communications (MIC) Pham Duc Long said: "Vietnamese IT enterprises have made great contributions to the prevention of the COVID-19 pandemic by quickly building and deploying many digital technology platforms and solutions, ensuring smooth communication, helping tens of millions of officials, employees, students, agencies, organisations, businesses, schools as well as people across the country maintain daily operations."
The MIC highly valued big contributions from the IT business community and expects the TOP 10 leading ICT firms in Viet Nam in 2021 would continue to enhance their pioneering role in making Vietnam a digital country with rapid and sustainable development, he added.
The awards this year still saw the participation of the country's big IT firms such as Viettel, VNPT, MobiFone and FPT.
The Top 10 IT companies with impressive growth were announced for the first time to honour firms with high growth rates. Most of the companies have been providing ICT services to international markets. They have been flexible in finding growth opportunities despite difficulties caused by COVID-19.
Launched in 2014, the Top 10 ICT award aims to honour businesses with big contribution to the country's ICT industry.
Source: VNA
.