Trading and service activities resume operations adapting to new normal
October 18, 2021, 10:03 [GMT+7]
Despite heavy rain last weekend, some eating and drinking establishments across Da Nang welcomed back a large number of customers. Most of owners of such establishments and patrons expressed their happiness and excitement about the resume of indoor service after Da Nang's COVID-19 restrictions had been lifted. However, COVID-19 prevention and control measures have been still put in place at such establishments.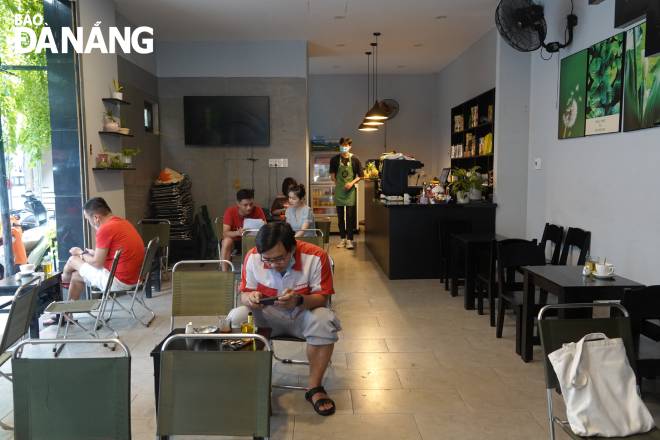 Tables in coffee shops are positioned two meters apart as preparations are made to ensure COVID-19 prevention. Photo: QUYNH TRANG
As noted on October 16, the first day Da Nang allowed indoor service, coffee shops along such major downtown streets as Nguyen Chi Thanh, Yen Bai, Le Duan and Le Loi, were packed with guests. Most of them were happy to sit and enjoy drinks on the spot.
In an attempt to ensure the strict practice of COVID-19 prevention rules, owners of coffee shops have their tables placed 2 meters apart in a tandem with providing hand sanitizer at entrance gates for customers to use before entering shops. All service staff must wear face masks.
Despite not being as busy as coffee shops, breakfast and snack stores also reopened to welcome guests back.
Many eateries' owners could not hide their excitement about the resume of indoor service in the city although it rained and people did not go out much.
The owner of a 'My Quang' eatery on Do Ba Street, Ngu Hanh Son District, said "The pandemic has impacted every aspect of life. Now we are so happy to welcome our guests back. I believe that with the city's ongoing mass vaccination campaign, the pandemic would be contained sooner or later".
In a similar vein, food and beverage stores at wet markets resumed on-table service, but the number of customers using such service was disappointingly low.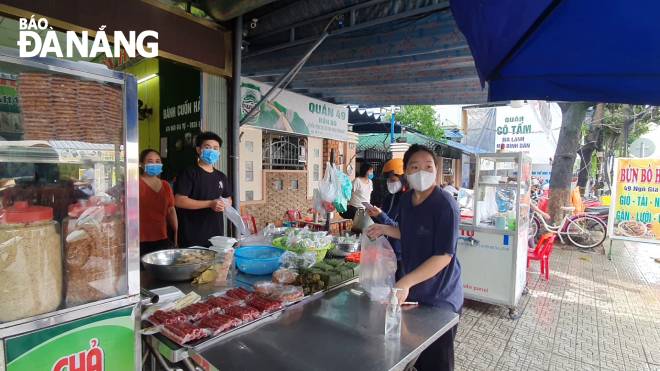 Owners of drinking and eating establishments have been expressing their happiness as indoor service has resumed in the city. Photo: XUAN SON
Starting from October 16, all wet markets, supermarkets and commercial centres citywide were allowed to resume full operations (except for the Hoa Cuong Wholesale Market).
The Da Nang Department of Industry and Trade has recently issued guidelines on safe adaptation to the COVID-19 pandemic at wet markets, commercial centres and supermarkets citywide.
Specifically, staff at trade centres, supermarkets and markets, along with patrons, must strictly practice the 5K recommendations of the Vietnamese Health Ministry, and have received at least one dose of a COVID-19 vaccine at least 14 days or have recovered from COVID-19 in the past 6 months.
Additionally, they must make medical declarations on the national PC-COVID app (their declared data will be then synchronised into the city's medical declaration management system), and regularly use QR codes when visiting the aforementioned venues (QR code entry cards are no longer used).
Similarly, cinemas, theatres, gyms and fitness centers are also allowed to reopen.
Staff at the Thep Viet football pitch in Ngu Hanh Son District said the pitch has continuously received reservations from customers as soon as the city's COVID-19 restrictions are lifted. It seems that the unit's pitch is booked fully until next week.
Director of the municipal Culture and Movie Centre Ngo Van Bay has recently announced a number of activities to meet the entertainment and artistic needs of the people following the city's transition to a new normal.
In particular, 3 new movies will be screened in November, as well as some cultural programmes are about to be held in order to create a bustling atmosphere in the city so as to welcome tourists back in November.
Trading and service activities in the city are gradually adapting to a new normal.
Reporting by QUYNH TRANG - Translating by M.DUNG
.