Da Nang leader highlights need for tourism restoration and development
October 08, 2021, 18:12 [GMT+7]
Da Nang People's Committee Vice Chairman Tran Phuoc Son on Friday morning chaired a meeting to discuss ways to restore and develop the tourism industry as well as to welcome back visitors.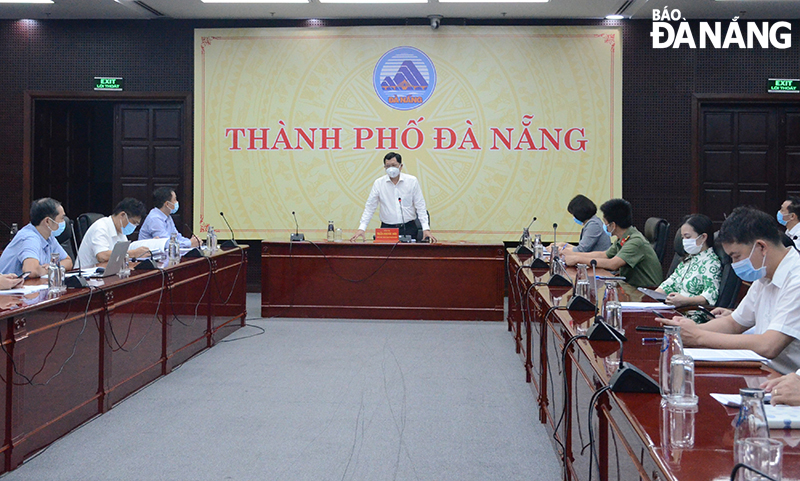 Vice Chairman Tran Phuoc Son delivers his address at the Friday's meeting to discuss ways to restore and develop the tourism industry. Photo: THU HA
Vice Chairman Son stated that tourism is the largest service industry, involving many sectors, thereby highlighting the need for active involvement of all relevant sectors to create a tourism recovery plan.
He also underlined the necessity and urgency for tourism restoration and development as Da Nang is a popular destination for holidaymakers both nationally and for tourists from around the world. In addition, Da Nang plays a central role in Central Viet Nam and Central Highlands, and it is a national visitor center. Therefore, it is necessary for Da Nang to reopen and welcome back visitors as the COVID-19 outbreak has been brought under control in the city.
The Department of Tourism will collect ideas and recommendations from relevant agencies to create 2 separate plans for welcoming back domestic and international visitors in order to submit them to the municipal government for approval before October 15.
The health agency will give advice the municipal government on COVID-19 health and safe protocols which will be applied to domestic and foreign visitors.
The Department of Information and Communications will develop plans for either adopting a vaccine pass or green certificate for domestic and foreign visitors or using QR codes and apps in managing the risks of COVID-19 in the city after the city welcomes back visitors.
The Department of Tourism also proposed 10 solutions and key tasks to restore the tourism sector with a focus on creating plans to welcome domestic and international tourists back in the new normal amid COVID-19 as well as ensure effective risk management in tourism service establishments.
Reporting by THU HA – Translating by H.L
.