Various garment products on sale for Tet
January 26, 2022, 22:10 [GMT+7]
The closer the Lunar New Year 2022 is, the more bustling the garments market is. At this time, many garment shops across Da Nang have been launching many attractive promotional programmes to attract more customers.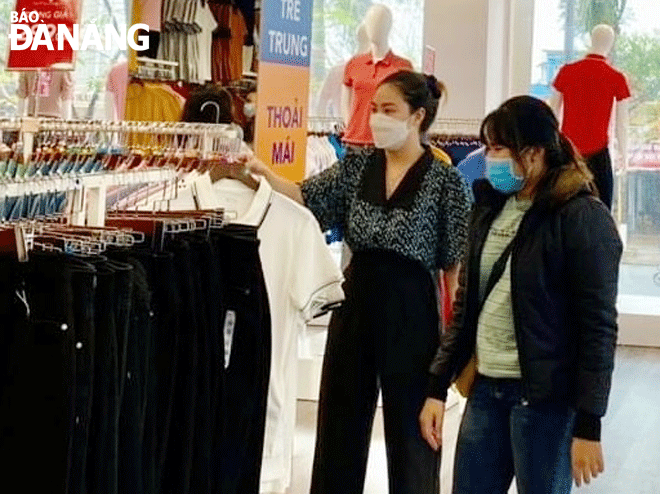 Shoppers at the Yody Store at 478 Dien Bien Phu, Thanh Khe District. Photo: M.QUE
As noted, specialised fashion goods shopping areas along such downtown streets as Le Duan, Phan Chau Trinh and Hung Vuong have been crowded with visitors. Many people have tightened their spending due to pandemic-triggered financial hardship, so the prices of ready-made garment products for Tet this year are lower than previous years'.
Most of garment stores are offering discounts of up to 60% on some types of products. According to the National Centre for Hydrometeorological Forecasting, nice weather is forecast for the most part of Viet Nam over the 9-day break for Tet Festival 2022. Therefore, consumers tend to buy clothes with cool and airy fabrics or thin and light jackets.
With the mid- and high-end segments, major fashion brands namely Elise, Pantio, Ivy Moda, Merriman, Ninomaxx, Blue Exchange, Owen and John Henry have released many collections of new fashion products to satisfy the shopping needs of locals for Tet.
As noted, at the Merriman store located on 30 Ong Ich Duong Street in Cam Le District, men's shirts are on sale at the prices of VND500,000 and VND1 million each, men's vests at VND3-5 million each, men's trousers at VND400,000 - 700,000.
At the Ninomaxx store nestled at 57 Le Duan Street in Hai Chau District, T-shirts and shirts are of great interest to many customers. The prices of these products are ranging between VND150,000 - VND500,000.
As observed at fashion shops for the youth and teenagers such as Yody, Salavi, and Fm Style, a lot of fashion products are available on sale for Tet.
With children's clothing, consumers also have many choices at stores on Tran Cao Van, Le Duan, etc.
To serve the Tet market, 'ao dai' (traditional Vietnamese long dress) for kids are sold with a variety of materials and prices, making convenient for customers to choose.
Most notably, Vietnamese-made fashion products are dominating fashion stalls in such supermarkets as Big C, Co.op mart, Lotte Mart, etc.
Meanwhile, at wet markets, the sale of ready-made garment products this year is less vibrant than previous years due to the influence of COVID-19. However, there are still many eye-catching products with affordable prices. In addition to basic costumes such as jeans, t-shirts, shirts, and skirts, a wide range of innovative and traditional 'ao dai' with cheerful textures and colours are on sale at the markets.
Reporting by MINH LE - Translating by M.DUNG
.