IT engineers, programmers get well-paid but easy to be fired
March 07, 2023, 10:41 [GMT+7]
After graduating from tertiary establishments with good qualifications or gaining enriched work experience, many students of information technology (IT) can receive a very high starting income as compared to those in other professions. However, in the IT field, if human resources cannot withstand great pressure, high work intensity and continuous innovation, they will be easily fired.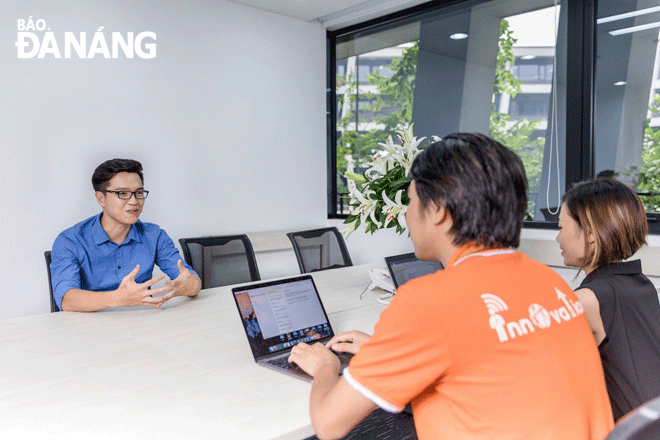 IT employees may get very high salaries as compared to other occupations but there will also be many risks, including being fired if they cannot meet the growing needs of businesses. Photo: C.T
After four years of graduating from IT at the Da Nang-based private Duy Tan University, Mr. Phan Viet Nhan, a resident from My An Ward, Ngu Hanh Son District, is receiving a salary of more than VND 34 million /month at a branch of a company located in Vinh Trung Ward, Hai Chau District.
This is a very high salary as compared to other professions and jobs. To achieve such a desirable salary, Nhan had to make great efforts since his senior high school years when he learned more about information and knowledge on the IT field by himself. Also just graduated one year ago from the FPT University, Mr. Nguyen Hai Bang from Xuan Ha Ward, Thanh Khe District enjoys a salary of nearly VND 18 million/month for his job as a software engineer.
As assessed by Mr. Nguyen Duc Son, the Director of the Representative Office of Bravo Software JSC in Da Nang, it is not uncommon as excellent students, with good experience and skills in the IT industry gain high salaries. Many graduates who prove their ability can receive a monthly salary of VND15 million-30 million after the first year at office.
Mr. Truong Linh Nam, the Director of the Da Nang branch of Mediastep Software Co., Ltd in Vinh Trung Ward, Hai Chau District said that promoting digital transformation and technology development is a common trend of many businesses. This creates a big challenge for businesses providing software and services when they must always try to upgrade and improve their products to match practical needs.
"If we do not improve and innovate our products, we will be backward and lose our position in the market. This requires our human resources to be really good, creative and adaptive to any pressures at work. We will offer high salaries to those who do well, and of course, will fire those who do not meet the requirements. This is both for the sake of the development and also for the survival of the business," said Nam.
For the time being, many businesses focus on the quality of human resources instead of the quantity as before. Mr. Le Hong Linh, the Human Resource Manager of FPT Software Co., Ltd. said that, in 2021, FPT Da Nang needs to recruit about 1,500 IT human resources, with 50% of them being experienced personnel and the remainder being new graduates. With the current growth rate, in the next 2 - 3 years, FPT Da Nang needs to recruit about 300-400 employees in this industry every year.
"This number of recruitments is also proportional to the number of employees who are fired because they do not meet the requirements. Our company's human resources are gradually being saturated, the apparatus is now aiming for optimisation, so now priority is given to recruiting highly-capable people rather than fresh graduates who only have academic knowledge but are not good at practicing", said Linh.
Pham Kim Son, the Chairman of Da Nang Software Business Association, said that the demand for personnel at all levels for IT and digital transformation positions continues to go up, especially in positions and fields such as technology development and application, transformation management, data management and analysis, artificial intelligence and cloud data.
However, the fact that businesses are gradually moving towards new requirements on human resources, accepting to 'filter' personnel to find vacancies for a new source of higher quality labour has happened in many places. This requires young human resources to do their best to promote their advantages and strengths whilst senior employees must also absorb new knowledge in order not to be sacked in the saturated context of the IT industry.
Reporting by CHIEN THANG - Translating by A.THU
.