Local swimmer Phuoc to train in Hungary before Tet
Published: January 04, 2016
According to the Director of the Da Nang Athlete Training Centre, Mr Dang Dong Hai, talented local swimmer Hoang Quy Phuoc will be going to Hungary's capital city Budapest soon before Tet for 3 months' training.
Initial estimates of the costs of his training sessions show that living and pool rental expenses will be around 60 USD per day, the salary for the foreign coach will range between 2,000 and 2,500 USD per month, and between 1,000 and 1,500 USD per month will be spent on functional foods. All the costs will come from the budgets of the city and the Vietnamese General Department of Sports and Physical Training.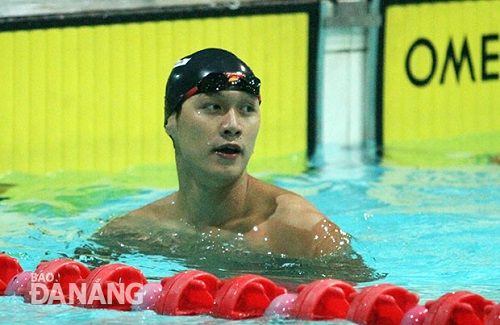 Swimmer Phuoc
Over the 3 months, Phuoc will be trained by coach Shane Tusup who is coach and husband of the Hungarian 'Iron Lady' Katinka Hosszú. The swimming superstar Hosszú set a new world record of 2 mins 6.12 secs in the women's 200-metres individual medley at the 2015 World Swimming Championships in Kazan. The contract with coach Tusup could then be extended if Phuoc's skills have improved considerably.
.