SHB DN's difficulties for the coming season
Published: January 05, 2016
During his meeting on Monday with Da Nang People's Committee Vice Chairman Dang Viet Dung, the General Director of the SHB Da Nang Sports Joint Stock Company, Mr Bui Xuan Hoa, outlined some of the difficulties SHB DN are facing as they prepare for the 2016 V-League season which opens on 14 February.
Director Hoa remarked that SHB DN's main worry was their lack of skilled foreign strikers who play an important role in chasing goals and creating successful attacks. To date, the local football club has yet to recruit any foreign players who can satisfy the requirements of the coaching board.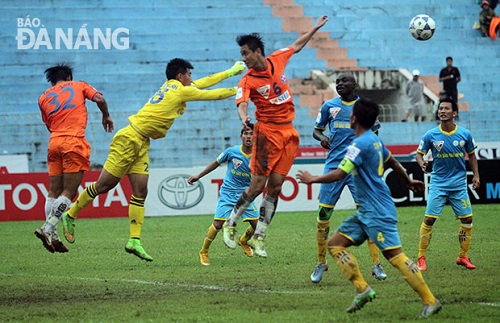 SHB DN players (orange)
He added that although SHB DN have already signed contracts with several domestic footballers, they will still have to depend very much on their senior players such as Hoang Quang, Quoc Anh, Phuoc Vinh, Hai Lam, Huy Toan and Ngoc Thang.
Mr Hoa said that his club will participate in the 2016 Hoang Anh Gia Lai Open Friendly Football Tournament in mid-January. This will provide a good opportunity for coach Le Huynh Duc to test the skills of the new recruits and evaluate their interaction and integration with their teammates.
Also at the meeting, coach Duc thanked the city's leaders for their support over recent seasons. He promised that he and his squad would do their utmost to gain success in the upcoming football season.
In reply, Vice Chairman Dung said that the Chi Lang Stadium would be upgraded in order to meet the requirements of the Viet Nam Football Federation. He hoped that this would provide a strong motivation for SHB DN when they play at home.
.