Confident start from SHB DN
Published: January 09, 2017
Saturday saw SHB Da Nang win their opening game of the V League 2017 season, which was also the first game at their new home, the Hoa Xuan Stadium in Cam Le District. In beating Hoang Anh Gia Lai 1-0, SHB DN showed great potential and offered an exciting style of play.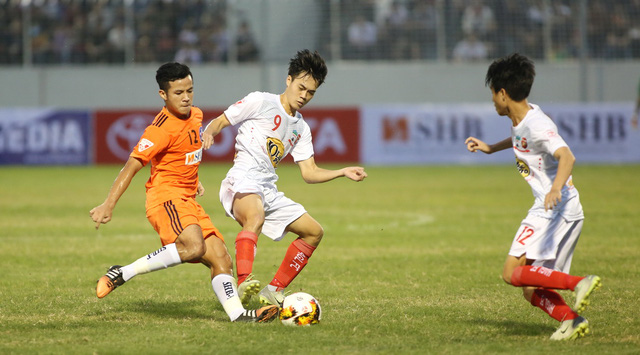 SHB DN and HAGL players (Photo:dantri.com.vn)
Goalkeeper Le Van Hung, who was rarely troubled in the first half, gave a faultless performance - a safe pair of hands. The defensive line looked well organised and very much in control. However, the midfield didn't dominate as much as they should have, and they were slow to give support to the strikers. Up front, Brazilian striker Eydison was fast and strong, and his powerful running, both on and off the ball, always looked dangerous to the opposing defence.
The only goal came in the 10th minute – a delightfully lofted cross from the right straight to the feet of incoming Nguyen Vu Phuong, the team captain, who gently slotted the ball under the HAGL goalkeeper's body.
During the first half, SHB DN were awarded several free kicks from similar positions just outside the penalty area. Unfortunately, the same free kick strategy seemed to be adopted every time, and it was never successful. Nevertheless, SHB DN generally dominated the first half with HAGL rarely getting near a shot at goal.
In the second half, HAGL became a little stronger. They had more chances on goal, but then so did SHB DN with their effective counter attacks which brought several good scoring chances. At least twice, seemingly impossible-to-miss opportunities … were missed.
In short, SHB DN made a very promising start to their season but could, perhaps should, have put the ball in the net more often. Hopefully they will in their next game, which is next Saturday, 6pm kick off, away at Sai Gon. Perhaps it's inevitable that there won't be goal feasts for now as last season's top scorer, both for the club and in the whole V League, Gaston Merlo is out injured for the first few games with a broken toe.
First impressions of the new stadium were good. Given that its capacity is smaller than the old Chi Lang Stadium, there were fewer visible empty sections of the stands. This helped give a better atmosphere, as did the new closeness of the crowd to the pitch. The lighting system was excellent, but the pitch itself probably needs more time to mature. The grass was very patchy in places when viewed from above.
Things for the team to work on? Greater dominance in midfield; fewer unnecessary yellow cards (2 in the last 5 minutes); up front, more of the chances created turned into goals, which might mean getting Merlo fit as soon as ever possible (bring him on in a wheelchair if necessary!); greater variety of free kick tactics; and, for the stadium staff, more fertiliser on the pitch!
Other V League 1 results:
| | | |
| --- | --- | --- |
| Can Tho | 1 – 2 | Long An |
| Ha Noi | 3 – 2 | Quang Ninh |
| Thanh Hoa | 2 – 0 | Song Lam Nghe An |
| Hai Phong | 0 – 1 | Sai Gon |
| HCMC | 1 – 1 | Quang Nam |
| Binh Duong | 0 – 1 | Sanna Khanh Hoa |
(Written by Ian Lister)
.