Luis Fonsi wows crowd at CocoFest
Published: July 06, 2018
Luis Alfonso Rodriguez Lopez-Cepero, better known by his stage name Luis Fonsi, a Puerto Rican singer, songwriter and actor, will perform at the 2018 CocoFest, are being held at the entertainment centre CocoBay on 6-7 June.
Star power: Luis Fonsi (third from left), a Puerto Rican singer, songwriter, is performing at the 2018 CocoFest in Da Nang on 6-7July . — Photo courtesy of CocoFest
The event's organising committee said Luis Fonsi, best known for his 2017 worldwide hit Despacito, featuring Puerto Rican rapper Daddy Yankee, will play classics from his 20-year career as well as new music at the show.
"Music is a way to communicate. My music is Latin American, and I want to bring my music to Vietnamese fans. It's also a chance to mix different cultures at CocoFest 2018," Fonsi said at a welcome ceremony on 4 July.
"The success of Despacito was a special way to break the language barrier when I collaborated with producer Justin Bieber and Daddy Yankee. I know English, but I wanted to use Spanish in my song. I hope people will get to know me, not just Despacito, but my dedication to music over the past 20 years."
The song Despacito won a total of four Latin Grammy Awards, and the music video reached five billion views on YouTube on 4 April, 2018. It became number one in nearly every Latin Billboard chart, and the most viewed video in the world.
In April 2017, the song, which was given an English remix featuring Canadian singer Justin Bieber, reached number one on the US Billboard Hot 100 for the week ending May 27, 2017, becoming both Fonsi and Yankee's first number one on the chart.
Fonsi and Spanish actress Maria Bravo will take part in charity activities during their stay at CocoBay and Da Nang.
Also, Nicole Scherzinger, an American singer, songwriter, actress, dancer and television personality, will attend the music party on 6-7 July.
Vietnamese singers and bands including Noo Phuoc Thinh, Dong Nhi, Bich Phuong, Vu Cat Tuong, Isaac, Min, Soobin Hoang Sơn, Space Speakers, SlimV & Nimbia, Da Lab, Den Vau, Ngọt Band will play at CocoFest 2018. The event will be directed by Vietnamese director Viet Tu and music producer Hoang Touliver.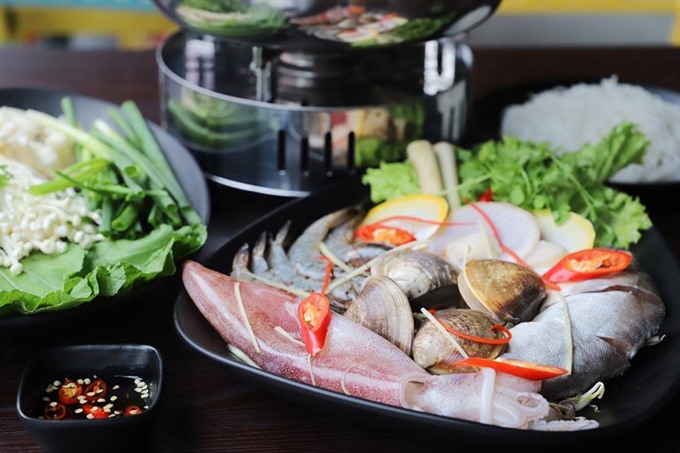 Fresh: Tourists have the chance to experience Vietnamese food at CocoBay between July and September. — Photo courtesy CocoFest
Also on the occasion, the TropCoco-Loco Summer festival will be launched on 6 July, beginning a 3-month summer extravaganza at CocoBay between July and September.
CocoFest 2018, entitled 'Laugh, Love, Live, Repeat', will offer the most attractive entertainment opportunities, cuisine experiences and beach parties for tourists.
In 2016, the biggest entertainment event was also organised at CocoBay with the participation of 10,000 visitors for a two-night performance and entertainment activities on the beach.
(Source: VNS)
.