COVID-19 delays Tet flower markets in Da Nang
December 31, 2021, 17:31 [GMT+7]
After New Year's Eve, Da Nang residents will wait for their annual biggest festival – Tet (Lunar New Year). The first day of 2022 in the lunar calendar will fall on 1 February.
Da Nang before the Tet Holiday is usually covered by the aroma and beauty of colorful flowers and plants at flower markets. Not only being a trading place, but flower markets are also an important part of the traditional culture of Viet Nam and cannot be miss before Lunar New Year's Eve.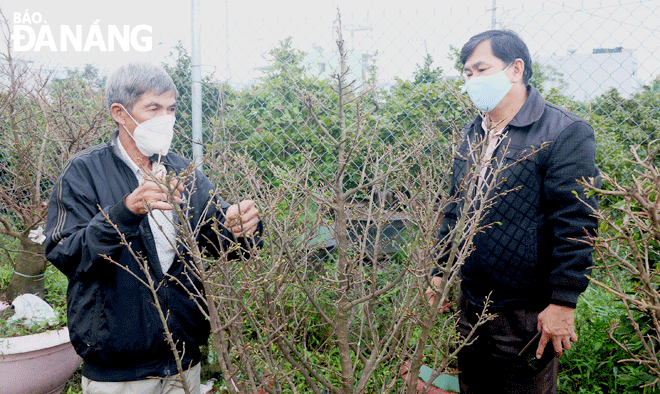 Tet flowers are ready for sale. In the photo: An owner of a flower garden (left) in Hoa An Ward, Cam Le District is introducing apricot trees to his guest during his visit to the garden. Photo: V.H
However, the upcoming Tet flower markets will be a little bit delayed in Da Nang due to the impact of COVID-19. Therefore, these markets will take place at the March 29 Square, along 2 September Street, and other areas across the city from January 22 to 31, 2022 (20th -29th days of the 12th lunar month).
The Hoa Vang District authorities have announced that the Tet flower market is scheduled to take place in the front of the District Administrative Center in Duong Lam 1 Village, Hoa Phong Commune with proper precautions in place to prevent the spread of the virus.
Apart from flowers and ornamental plants, such decorative items at a variety of eye-catching designs and colours as pictures and handicrafts will be on sale at the flower market in Hoa Vang District.
In a similar move, Lien Chieu District also plans to organize a flower market where sellers, buyers, and tourists can come to trade or enjoy the beauty of flowers and the bustling atmosphere here to celebrate the arrival of the new lunar year.
With just 1 month left until the 2022 Lunar New Year, the Year of the Tiger, flower growers in Da Nang and its neighboring localities are gearing up their production of a wide range of flowers which will be indispensable for decorating homes for Tet.
As usual, few days before the middle of December in the lunar calendar, flower markets throughout Da Nang are crowded as farmers and sellers will start to sell typical ornamental plants and flowers for Tet. The bustling atmosphere will be seen at these markets until 1 to 2 days before Lunar New Year's Eve.
There are diverse types of plants and flowers sold on this special occasion, and some typical decorating plants for Tet cannot be missed, including Cherry blossom, Apricot blossom, and Kumquat.
Besides typical Tet plants, such flowers and plants as Orchid, Peony, Poinsettia, Azalea, Fig, yellow Chrysanthemum, Gerbera, Narcissus will be sold at the Tet flower market. Da Nang people prefer to buy colourful or brightly coloured flowers and plants to decorate their houses during Tet as a wish for a lucky, wealthy and healthy Lunar New Year.
Reporting by QUYNH TRANG – translating by H.L
.