DNIM 2022 with 'Run It, Beat It' message
March 17, 2022, 14:12 [GMT+7]
After a two-year suspension due to COVID-19, the Manulife Da Nang International Marathon (DNIM) 2022 will officially resume on March 20 amid the eagerness of thousands of runners across the country.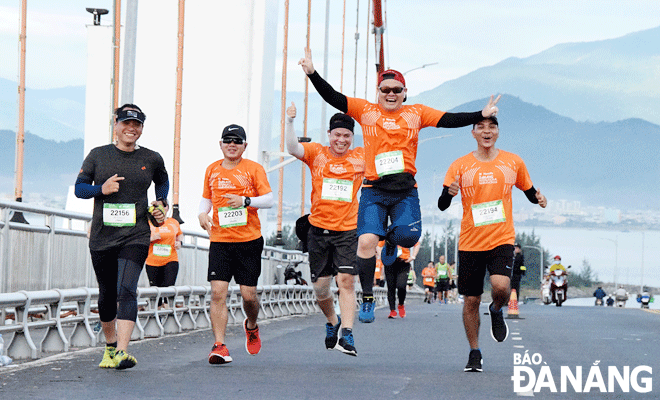 Runners show their excitement in a previous in- person marathon race
With the 'Run It, Beat It' message, the race organisers want participating runners to be able to break their own limitation to discover a better version of themselves.
As planned, DNIM 2022 will kick off with Ronny Dash fun run - a 1.5 km race for kids aged between 3 and 9 with their families which is scheduled to take place in the afternoon of March 19 in the East Sea Park. This exciting event aims at encouraging children to be more active, healthy, and show their love with Da Nang.
Meanwhile, the main events, namely a 42,195 km full marathon, a 21.0975km half marathon, a 10km run, and a 5km run, will be held on March 20 morning.
DNIM has been ranked 3rd amongst the top 6 most prestigious marathons in the world by readers of Rad Season magazine.
Not only that, at the SPIA Asia (Asia's Sports Industry Awards & Conference) in November 2008, DNIM was recognised among the top 10 Best Mass Participation Events of the Year, and top 10 Best International Sporting Events in addition to other famous events such as the Formula 1 (Formula 1) Australian Grand Prix or the World Golf Championship.
Deputy Director of the municipal Department of Culture and Sports Nguyen Trong Thao remarked due to objective factors, the number of athletes registered to participate in DNIM 2022 is only about 5,000 people, compared with about 8,000- 10,000 athletes in previous competitions.
He noted his unit and the event's organisers are striving to overcome financial hardship to take the initiative to make the race more exciting with the hope of luring tourists back to the city.
According to the organisers, in addition to running on clean and beautiful roads in the city, participants in the full and half marathon races will have the opportunity to run across two of the city's most beautiful bridges, namely Tran Thi Ly, Rong (Dragon) and Thuan Phuoc. Moreover, they can also admire beautiful beaches with their soft white sand and clear blue water during the race. This is a special feature of DNIM that few running tracks have.
Besides, Da Nang's experience in organising an international sporting event on a large scale is also highly appreciated by organisers and runners.
DNIM 2022 is also considered to be a good chance for its organisers to carry out some meaningful projects for the community.
Prominent among them is the Positive Green project which focuses on activities to minimise negative impacts on the environment, raise awareness of participants and the community about environmental protection, and encourage the community to live environmentally friendly lifestyles.
Meanwhile, the Positive Blue project aims to help children, the elderly, and people with disabilities overcome difficulties and move forward.
The purpose of the Positive Pink project is to encourage women and children to become more confident and active by participating in regular sports activities.
Mr Le Thanh Hai, the Marketing Director of the Pulse Active Company - the race organizer, remarked the annual race has proved very popular and attracted an increasing number of runners, from both home and abroad, over the past 8 years. In particular, the number of participating runners has increased from 1,000 in 2013 to 10,000 so far, of whom more than 9,000 have been international athletes from more than 65 countries worldwide.
He highlighted the significance of the international sports event in not only bringing steady growth of visitors to the city, but also creating a playground for sports lovers and promoting the development of physical training and sports movements in the city.
"The friendliness, kindness and warmth of Da Nang people make Da Nang become one of the most visited cities in Asia. DNIM is a good opportunity for Da Nang to reach out to the world strongly, continuing to conquer global tourists" added he.
Reporting by NGUYEN AN - Translating by M.DUNG
.