Da Nang's rich harvest of gold medals in SEA Games 31
May 26, 2022, 17:25 [GMT+7]
The 31st Southeast Asian Games (SEA Games 31) came to an end with a closing ceremony on May 23 at Ha Noi's Indoor Games Gymnasium. Viet Nam finished first in the overall medal count with 205 gold, 125 silver, and 116 bronze medals. Apart from 3 leading sports delegations in the country, namely Ha Noi, the Military and Ho Chi Minh City, Da Nang has also made important contributions to the success of Vietnamese sports delegation's effforts.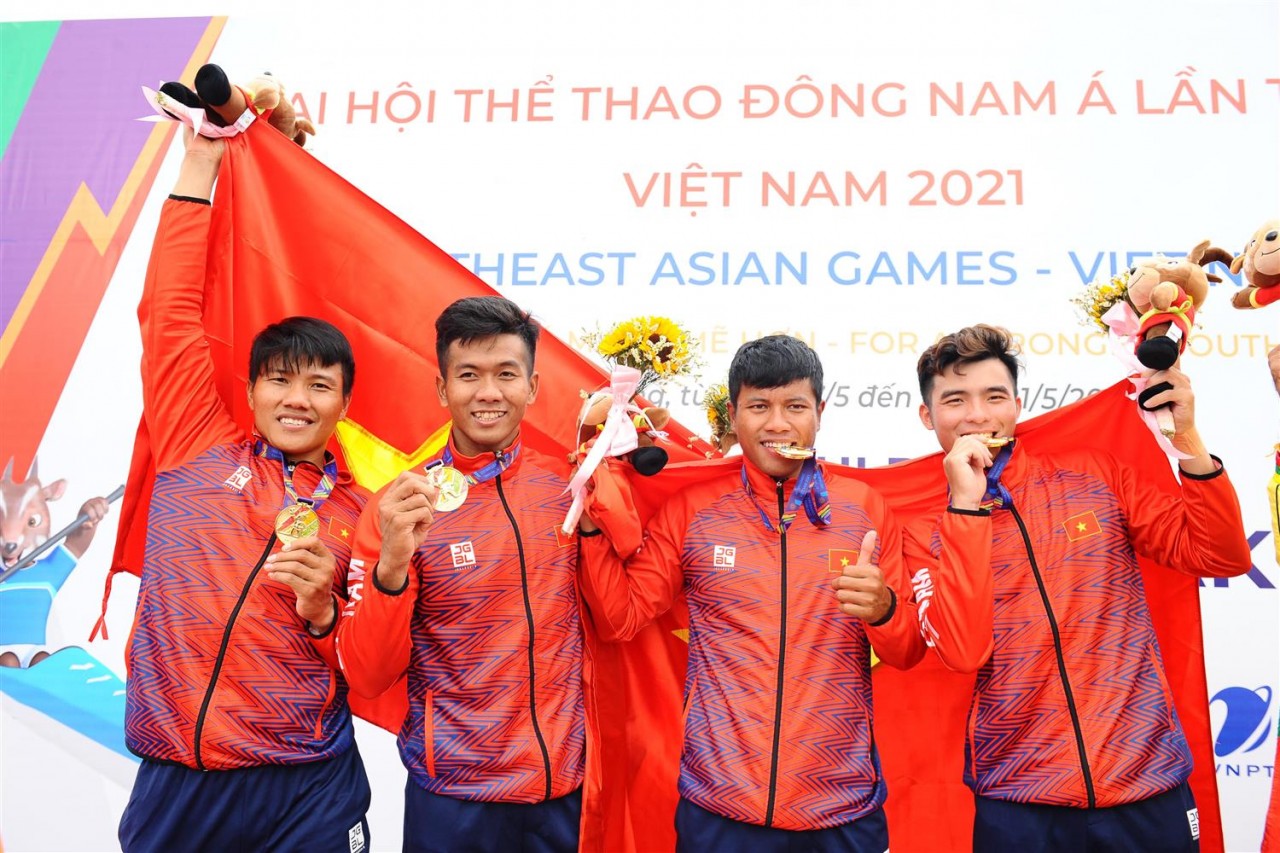 Athlete Hien Nam (third, left) and his teammates finished first in the men's C4 1,000m event.
Seven coaches and twenty-five athletes from Da Nang attended SEA Games 31, and they competed in 15 sports events,namely athletics, swimming, canoeing, rowing, boxing, judo, taekwondo, karate, handball, badminton, diving, pencak-silat, bodybuilding, billiards, and weightlifting.
Da Nang's athletes earned 13 golds, 9 silvers, 7 bronze medals, and broke three SEA Games records in athletics events.
Among Da Nang's high achievers in SEA Games 31 are rower Pham Thi Hue who claimed 3 golds in women's rowing events, namely heavyweight single scull in the women's pair, heavyweight double sculls in women's four and women's single.
In addition, swimmer Hoang Quy Phuoc brought home 2 golds, 1 silver, 1 bronze medal from SEA Games 31. Notably, Phuoc broke the SEA Games record and pocketed a gold medal in men's 4x200-meter freestyle relay event.
Mr. Le Nguyen Tuong Lan from the Da Nang Athletes Training Center praised the 29-year-old swimmer for his efforts to achieve his best performance at SEA Games 31 while other swimmers of the same age have retired. Past years' his efforts have been paid off and resulted in great eachievements at the international sporting event.
Furthermore, athlete Hien Nam, 23, from Ta-Rien ethnic minority group in Nam Giang District, Quang Nam Province, won 2 gold medals in Canoeing: in men's C2-1000m and men's C4 -1000m events.
Hien Nam said that he has had a passion for sports since his childhood. In 2016, he was enrolled in canoe training course at the Da Nang Athletes Training Center.
In 2018, Hien Nam earned 2 gold medals in men's C4-1000m event and men's C4-5000m event for the Da Nang sports delegation at the 8th National Sports Festival that took place in Ha Noi.
Mr. Nguyen Trong Thao, the Deputy Director of the municipal Department of Culture and Sports spoke highly of Da Nang athletes' efforts to achieve greater achievements in SEA Games 31 than those in the previous events. The department will hold a ceremony to honour and reward them in a bid to honour the spirit of competition for Da Nang in recent years, Mr Thao added.
Reporting by NGOC QUOC – Translating by H.L
.