Middle span of the Nguyen Van Troi Bridge vertically raised and lowered to serve tourism
June 05, 2022, 11:48 [GMT+7]
Starting from June 4, Da Nang deployed a plan to carry out some activities at the Nguyen Van Troi pedestrian bridge spanning the Han River in service of both local residents and visitors.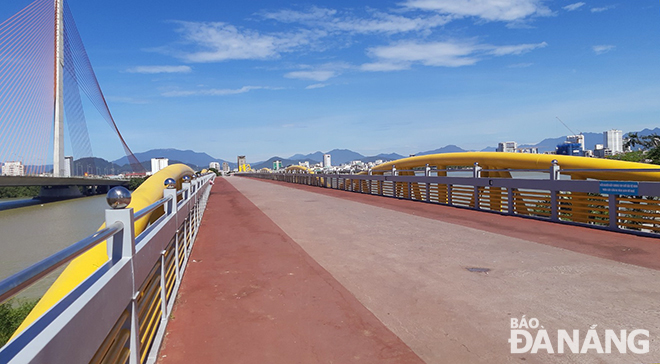 The Nguyen Van Troi Bridge has been renovated, upgraded and repainted. Photo: THANH LAN
Accordingly, the middle span of the Nguyen Van Troi pedestrian bridge will be vertically raised and lowered on weekends and in major public holidays from 4:00pm to 6:00pm daily.
In the immediate future, the performance of the bridge will be piloted in the first two weeks of June, 2022, which will serve as a basis for evaluating the effectiveness of the tourism exploitation activity by lifting and lowering bridge span as well as evaluating the coordination work among related units to ensure traffic order and safety.
Functional bodies in the districts of Hai Chau, Son Tra and Ngu Hanh Son are asked to coordinate with the city's Bridge and Road JSC to set up checkpoints at the two ends of the bridge, not allowing locals and tourists to go across the bridge during its performance to ensure their safety.
Inspectors from the municipal Department of Transport will be responsible for rearranging traffic on the adjacent roads at the two ends of the Nguyen Van Troi Bridge during its performance.
The Waterway Traffic Police Team will increase their inspections to ensure security and order during the performance of the bridge.
Besides, the Department of Transport also proposed to regulate the number of people not exceeding 200 people on one span. At the same time, parades will be banned from organising on the bridge.
Currently, the upgrade of the Nguyen Van Troi pedestrian bridge has been already completed.
The functional bodies are installing rule boards and signboards which instruct locals and tourists to keep the environment sanitation, and not to throw trash on the bridge.
Reporting by THANH LAN - Translating by M.DUNG
.