Nhat Lam Thuy Trang Tra ecotourism site - a peaceful and romantic venue
Published: March 22, 2016
About 10km east of Da Nang, the Nhat Lam Thuy Trang Tra ecotourism site on the Son Tra peninsula boasts a simple, poetic beauty set amongst outstanding nature. It is situated near the thousand-year-old banyan tree and the beautiful 'Nai (Deer) Spring' in the Son Tra Nature Reserve.
The site's owner, Mr Pham Truong Mai, said that the site was created in 2007 and was originally named 'Truong Mai' after him. A few years later, it was renamed 'Nhat Lam Thuy Trang Tra', which implies a beautiful natural area featuring mountains, water, green trees and grass.
The entrance to the 'Nhat Lam Thuy Trang Tra' ecotourism site
Over recent years, Mr Mai and his family have taken advantage of the site's natural conditions to raise wild boars and backyard chickens, farm fish, and plant wild vegetables. This has helped his family to increase their production activities, and become involved in protecting the forest.
Thanks to its beautiful landscapes and airy spaces, 'Nhat Lam Thuy Trang Tra' is now attracting a great deal of attention from local residents and visitors.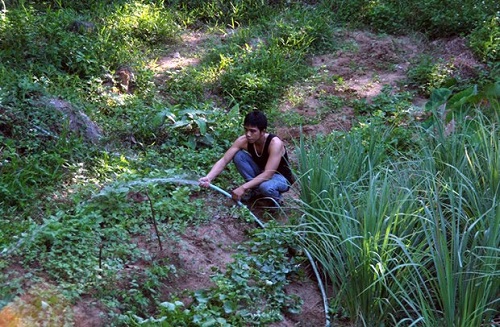 Mr Mai watering wild vegetables
The path to the ecotourism site is quite romantic thanks to the green trees and grass alongside. From the peninsula's Ban Co Peak (Chess Board Peak), visitors need to go straight on until they meet a T-junction and then turn left. They continue going straight ahead for several kilometres until they come to the site. Interestingly, some of the bends on the road leading to the venue will challenge drivers with their 40% uphill slope.
Visitors to the site have the opportunity to enjoy a wide range of delicious rustic dishes made from the backyard chickens, farm-bred wild boars, and wild vegetables. Most notably, the coconut wine is highly recommended for people who love a light and sweet spirit which is fermented from coconut water.
The site is a really peaceful destination for anyone who wants to get far away from the hustle and bustle of city life, or relax and temporarily forget the pressures of daily life.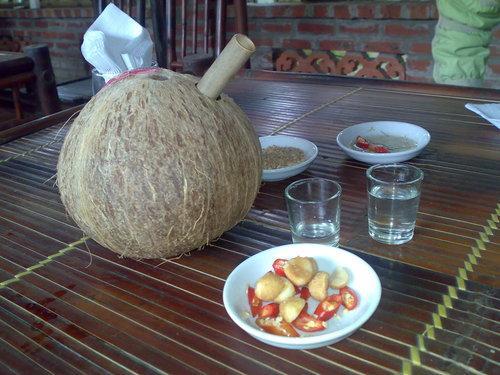 The special coconut wine
.