Bai Rang - An oasis of peace and charm
July 17, 2018, 17:02 [GMT+7]
Located in the southern part of Da Nang's Son Tra Peninsula and just about 5km from the centre of the city, the Bai Rang Beach boasts its pristine beauty with blue-waters, yellow-sand beaches, and undulating rocks.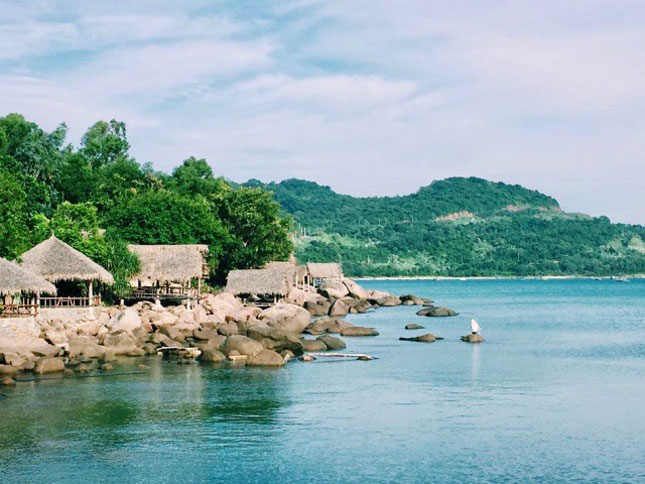 Several palm leaf huts are built on large stones in Bai Rang
It takes you only 10 minutes to drive on Hoang Sa Street to the Linh Ung Pagoda which is located on the Son Tra Peninsula. From the Pagoda, you will go straight 3km further to the Bai Rang Beach.
Visitors can visit Bai Rang at any time of day to explore its beauty. In the early morning, you can go for a walk along the beach to feel the sand between your toes, take a deep breath to enjoy fresh air, and watch the sunrise.
When the sun goes up, you can see tiny fishing boats floating in the sea. When the sunset falls, the tide ebbs away, leaving behind very large stones. You can lie on a large stone to listen to the sound of crashing waves.
Meanwhile, building a campfire is a great idea in the evening. At that time, your friends or family members will gather around the flames, sharing stories, singing together, and trying delicious grilled dishes under starry night sky.
Apart from admiring the pristine beauty of Bai Rang, visitors will have the opportunity to go swimming, and participate in such water sports as jet skiing, boating, and diving to explore the coral reefs.
Visitors also have a wonderful chance to enjoy fresh seafood dishes at airy restaurants nearby, or buy seafood freshly caught and carried from fishing boats to the shore by local fishermen at reasonable prices.
Ms Le Ngoc Ha from Quang Binh Province said "I and my friends rented a beach-front hut which is built on large stones at the price of 500,000 VND for a day, including an outdoor oven. We cooked by ourselves and took a rest in this shelter after a long time for outdoor activities."
The Quang Binh native also affirmed that she would go to this beautiful beach again if she got the chance to come back Da Nang.
Boasting pristine natural beauty, the Bai Rang Beach has become more popular with both locals and visitors who want to be immersed in nature and get far away from the hustle and bustle of city life.
.