Local pupils's passion for making functional foods from herbaceous plant
January 25, 2019, 17:07 [GMT+7]
With the hope of making functional foods from Clinacanthus nutans for the sake of public health in tandem with fully tapping the economic value of this herbaceous plant, 2 school pupils in the city conducted initial research into the application of Clinacanthus nutans to produce some functional foods.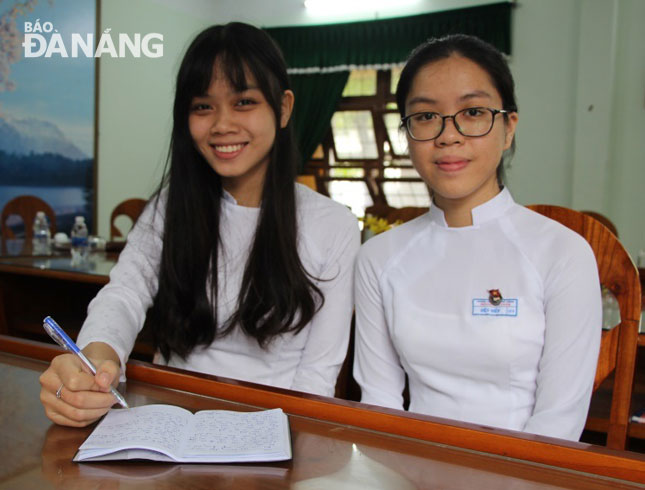 The 2 talented pupils have poured their much time and efforts into researching into the making of functional foods from Clinacanthus nutans
The talented 'researchers' are Nguyen Thi Han Huong and Ha Thi Dieu Hien, both of whom are 12th graders from the Da Nang-located Hoang Hoa Tham Senior High School.
The pupils' efforts were paid off as their research project won the first prize at the recent municipal-level scientific and technological innovation contest.
Clinacanthus nutans is an herbaceous plant that grows in low shrubs up to 2.5 meters high. Its stems are green, woody, upright and cylindrical. Its leaves are green, simple, lanceolate with pointed tips and rounded bases, and are 8–12 mm long and 4–6 cm wide. Its flowers are red and panicle-shaped, with tube-shaped elongated petals 3.5 cm long.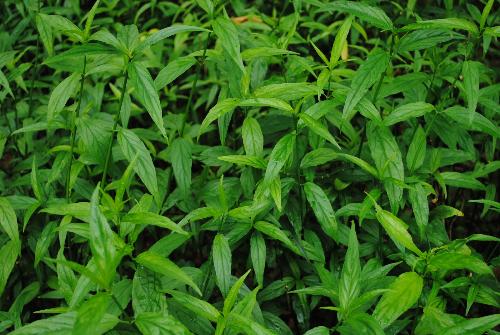 Clinacanthus nutans
Sharing the idea on the research, Hien said she and her coursemate, Huong, embarked upon doing the research in March 2018 under the enthusiastic guidance from their highly-experienced teachers Tran Thi Le Hang and Pham Chau Huynh - two teachers at Hoang Hoa Tham High School.
The pupils said they chosen samples of Clinacanthus nutans leaves grown in the Central Highlands province of Dak Lak so as to conduct genetic analysis, and learn more about nutritional composition and activity of the herbaceous plant.
The pharmacological experiment proved that various types of extracts and pure compounds from this species exhibited a broad range of biological properties such as anti-inflammatory, antiviral, antioxidant, and anti-diabetic activities.
This plant, therefore, shows off function of treating high blood pressure and other health problems,a and noticeably, limiting the growth of cancer cells.
During their 3 months of research, the 'young researchers' conducted experiments at labs owned by the city-located Junior College of Food and Industry, and then sent samples to local licenced centre for testing.
"We made extracts from the plant to make two products: herbal tea and refined powder", Hien revealed.
She added, Clinacanthus nutans commonly grows much in the South-eastern region, but actually it easily lives in everywhere because it is inherently wild.
In the near future, the 2 talents will conduct more research into varieties of the plant to identify the impacts of geographical characteristics, soil and other related elements on the nature of the plant.
In regard to their future plans, the pupils hope to offer their best products, made from Clinacanthus nutans, to the market for sale.
.