Useful social networking site for travel lovers
January 16, 2019, 17:40 [GMT+7]
Founded in June 2017, a social networking site named 'Liberzy' at https://www.facebook.com/liberzy/ offers travel lovers smart tools to help them create and share their own travel schedules, maps, and experience.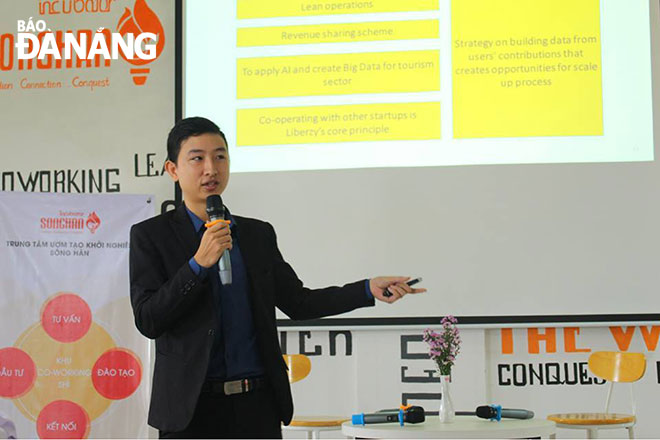 Mr Thang introducing his 'Liberzy' project
It operates under a social network, allowing users to access via its website or its mobile phone application.
Developed by 31-year-old Truong Duc Thang, 'Liberzy' is a mix-up of 2 words 'Liberty' and 'Easy'.
Mr Thang said the idea of developing this useful social networking site came from his strong passion for travel. He held a position as managing director for some hotels and training companies, but he dreamed to seek a job to devote himself to with his passion and give him the freedom of time to travel.
In 2016 and 2017, there was an upward trend in the number of people to write review articles about their trips and post on social networks. Each of review articles was often accompanied with many eye-catching photos, which attracted a great deal of attention from social media followers.
Taking advantage of this trend, Mr Thang developed the 'Liberzy' site.
With many years of experience working as a hotel manager, the young man cooperated with many tourism service providers, including restaurants, hotels and transport service providers, to launch attractive tours at reasonable prices in a bid to satisfy diversified demand of clients.
So far, 'Liberzy' has drawn a huge attention of the youth because Liberzy has provided useful information for those who love travelling and discovering new destinations and untouched places in Viet Nam, especially in Da Nang.
With its headquarters in Da Nang, 'Liberzy' focuses on advertising the beautiful images of the city.
In an effort to exploit full information relating to the city, 'Liberzy' has established a group of local residents and tourists to give active support to those who want to visit Da Nang in order to help them have the best travel experience in this beautiful city.
Last year, 'Liberzy' received investment from the B.A.P Informatics Import-Export Joint Stock Company to develop its mobile phone application on both iOS and Android operating systems.
'Liberzy' is currently one of the typical start-up projects at the city's Songhan Incubator, and Mr Thang is planning to expand its partner network to many domestic and foreign businesses.
.