Boosting BIM application in construction industry
June 18, 2019, 22:20 [GMT+7]
Building Information Modeling (BIM) is actually a process for creating and managing all of the information about a project. It contains digital descriptions for every aspect of the physical project.
The Smart Building at the Da Nang University of Science and Technology was designed by BIM software. However, BIM was not applied in the construction of the building due to a lack of human resources and techniques.
BIM has been applied in the construction of some large projects in Ha Noi and Ho Chi Minh City over recent years. However, the technology has yet to be popular in Da Nang.
Dr Pham My, lecturer of the Civil Engineering Faculty of the Da Nang University of Science and Technology, said by using BIM, you can plan and visualise the entire project during preconstruction, before the shovel hits the ground. Space-use simulations and 3D visualisations allow clients to experience what the space will look like offering the ability to make changes before construction starts. Having a greater overview from the beginning minimises expensive and time-consuming changes later.
Associate Professor Tran Quang Hung, the Faculty's Head, highlighted the significance of the BIM application in helping developers save at least 30% of building material costs and construction time, as well as ensure the transparency in the quality management and the operation of their projects.
"Also, BIM will be a vital solution for the construction sector to approach the fourth industrial revolution (Industry 4.0)", Mr Hung noted.
He also stressed the need for colleges and universities across the city to add BIM to their training programmes in order to help their students meet the requirements of their future recruiters after graduation.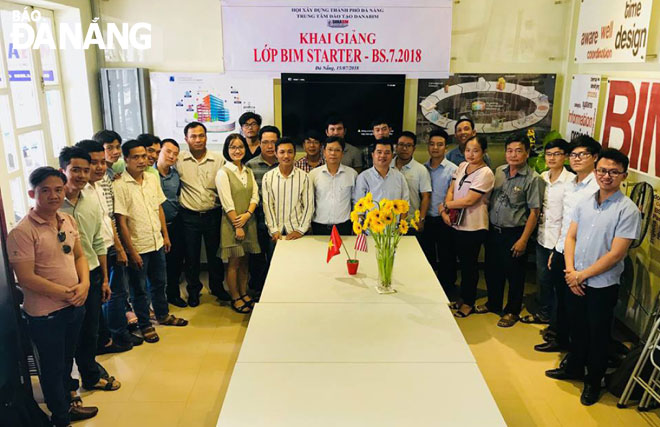 Participants at the BIM Starter course
In particular, the 'BIM technology in construction' programme has been taught at the Civil Engineering Faculty since 2018.
Accordingly, the Faculty has received active support from such large construction businesses in Viet Nam as the Hoa Binh Construction Group JSC, the Thuan Viet Trading Construction Co Ltd, and the Central Construction JSC.
Mr Le Tung Lam, Deputy Director of the municipal Department of Construction cum Chairman of the municipal Construction Association, said his association has opened free BIM Starter courses for the association's members in a bid to help them enhance their knowledge and professional skills relating to BIM applications.
He revealed his association would develop a legal framework for applying BIM for construction, and project operation and management activities by the end of this year.
.