Da Nang promotes public use of electric vehicles for environmental protection
April 02, 2021, 11:21 [GMT+7]
Da Nang government on Thursday announced a project for promoting the public use of electric vehicles (EVs) and the construction of EV parking/ charging stations across the city in the coming time. This is considered to be a quick move, demonstrating Da Nang's high determination to pioneer in the development of transport infrastructure, and make a public shift to the use of means of transport meeting environmental protection goals.
Da Nang is striving to boost the development of EVsfor environmental protection. In the photo is

EV model VF e34 VinFast has put on the market for sale
Incentive policies and mechanisms for the sake of EVs
Under the project, by 2025, 150 Levels 1 - 2 and 15 Level 3 EV charging stations will have been developed across Da Nang. By 2030, these figures will have increased to 250 and 50 respectively.
In the aspect of transportation, the electric car, and the electric vehicle (EV) as a whole, will take spotlight in the motor vehicle manufacturing industry thanks to its outstanding advantages.
In reality, the EV is better than those running on petrol or diesel in that it causes no noise and environmental pollution, as well as ensures energy efficiency and high safety for the user
Under the project, in the coming time, focus will be on encouraging the public procurement and use of EVs at all government departments and agencies across Da Nang, building a specific roadmap to replace the existing gasoline-powered public buses with electric ones.
Also, heed will be paid to calling for public-private partnership (PPP) investment, taking advantage of ODA and non-governmental funds, and facilitating businesses to access financially preferential policies to develop EV charging stations in public offices in accordance with Da Nang government-adopted regulations.
It is also necessary to fully tap service utilities related to the would-be EV charging station network so that the public across Da Nang can access transportation services using green and highly practical technologies, hereby promising a comfortable life for local residents.
The municipal authorities will task themselves with evaluating plans to select contractors for the procurement of EVs and the development of EV charging stations at public establishments across the city as regulated.
Especially, heed will be paid to attracting investment from strong corporations in the electric vehicle sector which have successfully deployed a network of EV charging stations in such countries as Japan, South Korea and Thailand.
The approved aforementioned project serves as the basis to affirm the pioneering role of Da Nang in following Viet Nam's development orientations for EVs and EV parking/ charging stations in the aspects of transport infrastructure construction, heading towards the goal of ensuring sustainable development, reducing carbon emissions, and building a dynamic, modern and environmentally-friendly city in the coming time.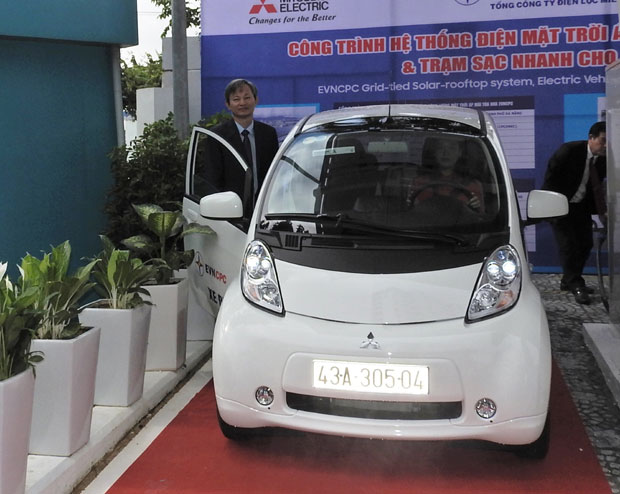 Viet Nam's first EV parking/ charging station was put into operation in Da Nang in 2017 by the city-based Central Power Corporation (EVNCPC) last year (Photo: NDO)
Use of EVs: Inevitable trend
In addition to the launch of the mass production of its first electric models, Viet Nam's first domestic car manufacturer, VinFast, also a unit of Vietnam's largest conglomerate Vingroup JSC, is the first unit to announce the roadmap for building a total of 40,000 EV charging stations nationwide.
In particular, Da Nang is one of the five centrally-run cities where Vinfast plans to develop EV charging stations.
As for the density, there will be one charging station every 2km in local downtown districts. Vinfast's plans, for the time being, match with Da Nang's EV charging station development mechanisms.
According to recent report by the Department of Industry and Trade, during the 2020 – 2025 period, the number of EVs will account for about 5% of the total new registered vehicles in Da Nang. This means that an average of more than 50 EVs will be put into use each year.
VinFast is taking pre-orders for its first EV model VF e34 priced at VND690 million (US$29,820),
People making orders before June 30, 2021, can purchase the vehicle for just VND590 million and a free-of-charge battery lease for one year. Deliveries are scheduled to begin in Nov 2021, reported Vietnam News Agency (VNA).
Buyers can visit the website http://shop.vinfastauto.com or VinFast's showrooms and merchants nationwide to make a refundable deposit, valued VND10 million, for each pre-order. A deposit will be refunded if orders are cancelled.
VinFast is going ahead with its battery leasing plan which allows customers to rent out batteries separately from the EV. It is intended to reduce the initial cost of buying an EV for customers and let the automaker bear all the risks regarding the EV battery's quality and lifespan.
A recent survey by VinFast shows that 33% of Vietnamese users can buy EVs in the first purchase. This is an opportunity for 'big boys' in the manufacturing industry to enter the race to occupy this new market share on EVs, said Le Hoang Hai, Director of Battery Station Development Centre, the Vinfast Trading And Service Limited Liability Company.
Reporting by KHANH HOA – Translating by A.T
.