Da Nang University of Foreign Language Studies crowned winners of UD'S Got Talent
April 04, 2021, 12:33 [GMT+7]
Organised by the Students' Association of the University of Da Nang (UD), the finale of UD'S Got Talent took place at the Asia Park on Saturday evening with the theme 'Shine Your Light', attracting a great deal of public attention with a wide arrays of interesting arts performances.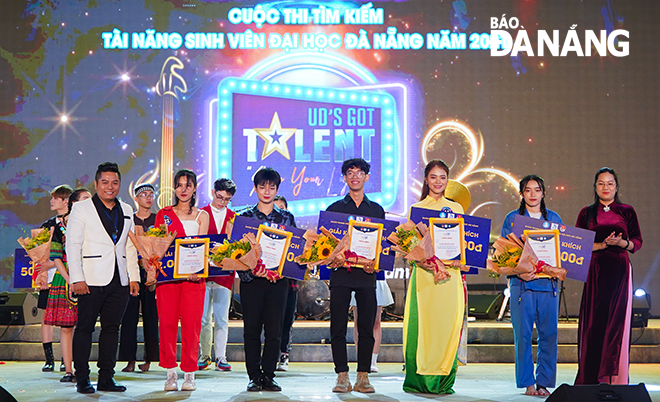 The event's judges honouring the prize-holders
The finale attracted the active participation of 14 teams in total from UD's member tertiary establishments as the universities of Economics, Foreign Language Studies, and Education, and the VNUK Institute for Research and Executive Education (VNUK – IREE).
The finale saw impressive performances covering many genres such as modern and aerobic dance, martial arts and singing. These were excellent repertoires selected from the entries by the total 70 participating teams in the preliminary round.
These performances really left a lot of deep impression on the contest's judges as well as the audience, showing the talent and artistic style of each individual, as well as the harmonious combination amongst members in each team.
In particular, revellers to this eagerly-awaited audiovisual feast were interested in swinging to the highly-enticing rhythm of such wonderful performances.
The modern dance performance by MYST dance group from the University of Foreign Language Studies won the first prize, whilst talented students of the University of Economics achieved the second and third prizes.
Reporting by NGOC PHU – Translating by A.T
.