Promoting innovative entrepreneurship in Da Nang universities
February 09, 2022, 17:37 [GMT+7]
Innovative entrepreneurship has played an important role in providing ideas and human resources for businesses, in tandem with creating new products and services. Therefore, orienting students in entrepreneurship is currently considered as a pivotal role in the startup ecosystem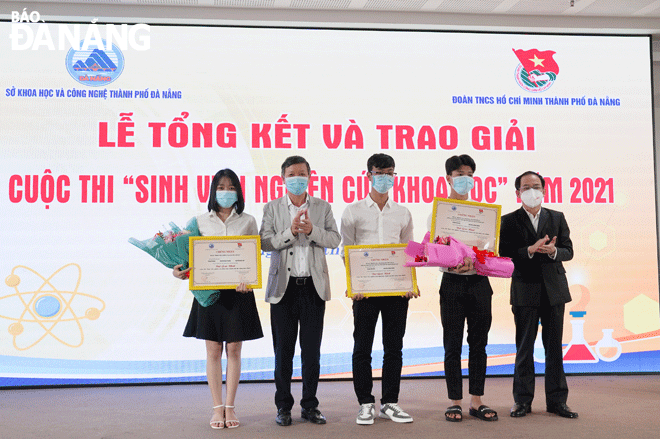 The organizers of the "Da Nang Scientific Research Contest for Students" honouring winners in 2021. Photo: TUAN ANH
Over the past time, some universities and colleges citywide have had numerous activities such as establishing startup clubs; organizing contests, forums, seminars for lecturers, students and businesses on the topic of innovative entrepreneurship to support and promote the spirit of entrepreneurship and innovation among students.
The Startup Club at the University of Technology (DUT)- the University of Danang (UD), operating with the aim of creating a shared 'playground' for students and lecturers who are passionate about startups has captured the attention of its members because they have the opportunity to learn and connect with experts, entrepreneurs, and start-up support organizations. At the same time, they can be fostered scientific research skills, helping spread the spirit of innovative entrepreneurship in the community.
Nguyen Dinh Huy, a student of the Faculty of Waterworks Construction, DUT, who won prizes at the contests ' Innovative the Technology Entrepreneurship University of Danang', 'Da Nang Scientific Research for Students' with the product "Agricultural mobile application using artificial intelligence and remote sensing" has been contacted by several units to support the development of this product. In the coming time, Huy and his friends will continue to develop, complete the product and launch it on the market
Since 2017, the Department of Science and Technology has coordinated with the municipal Youth Union to organize the contest "Da Nang Scientific research for Students " to improve the ability to research science and develop technology from new and unique ideas. This is also an opportunity for students to accumulate multidisciplinary knowledge and apply it to solve practical problems.
As shared by Ms Vu Thi Bich Hau, the Deputy Director of the Department of Science and Technology, despite many difficulties due to COVID-19 in 2021, the organizers still organize the contest in the form of physical and virtual meetings to maintain passion for scientific research and innovative spirit of citywide students. From more than 500 topics participating in the first rounds of universities, 150 topics with practical applications have been selected for the city-level contest.
The Department of Science and Technology has signed a cooperation agreement with the University of Danang on scientific research, application development, technology transfer, intellectual property and innovative entrepreneurship for the period 2022- 2025 to form a startup ecosystem and fully prepare career skills and entrepreneurial thinking for students as soon as possible.
Accordingly, universities and colleges citywide have gradually transformed their teaching methods from "teaching knowledge" to "developing skills", promoting scientific research activities, innovative entrepreneurship. On top of that, it is necessary to have a combination of schools, the State and enterprises to ensure the training of human resources to meet the development requirements of the city and the nation.
Reporting by TUAN ANH- Translating by T.VY
.